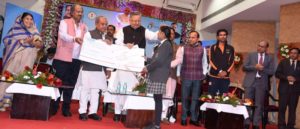 "Digital economy is taking India to a new era", said Chhattisgarh Chief Minister Dr Raman Singh while inaugurating the "Digi-Dhan" mela organised at the Agricultural University here in Raipur. He further added that Demonetisation is a great initiative taken by Prime Minister Narendra Modi to eradicate black money and corruption from the country's economy and demonetisation will show positive economic results in the New Year. Both customers and shopkeepers are enthusiastic about using digital modes of payment.
Chief Minister said that compensations under MNREGA and under other social welfare schemes would be revolutionised. Also, the use of Aadhar Card and Fingerprint will curtail any possibility of leakages in the payments.
Dr Singh also announced that PDS shops in five districts, Raipur, Balod, Dhamtari, Rajnandgaon and Raigarh would be completely cashless by 31st March 2017. He further added that more than 11 lakh farmers holding Kisan Credit Card would be provided with a RuPay card. Cashless transaction facilitation will be provided at 5000 locations via Lok Seva Guaruntee Kendras and Common Service Centers. Fifty people in every panchayat will be trained on Cashless transactions. For this, a "Digital Army" is being created in the state.
The Chief Minister said that a new environment is evident in the country with Prime Minister promoting cashless transactions. This will surely show positive results in the economy and in the lives of villagers, farmers and laborers. The enthusiasm with which the Govt., Banks, telecom operators and public are promoting Digital transactions, soon Chhattisgarh will be a hub of Digital payments.
Dr Singh also added that Chhattisgarh has successfully compensated 11 lakh farmers in a speedy and transparent manner using Digital payment methods. Most people are now using smartcards and swipe machines for health treatments under Mukhyamantri Swastha Bima Yojana. The Chief Minister said that robust planning has been done to enable digital payments in the state and Seva Kendras at Panchayat level are being equipped for digital transactions. These measures have been successfully implemented and tested in Balrampur District. The Chief Minister also praised the enthusiasm and excitement with which the trade unions and Chhattisgarh Chamber of Commerce members have been promoting.
The Union Minister for Panchayat and Rural Development Narendra Singh Tomar talked about the exponential growth in Digital trade in coming years, in his address. Very soon, India will reach its destination to become a cashless economy. Tomar talked about the demonetisation of 86 per cent of country´s currency and preparations to solve the technical challenges in the implementation. Tomar said that the historic Demonisation by Prime Minister Narendra Modi would put an end to Black Economy, Naxalism and Terrorism financing and make India self-dependent on many things. Indian budget is close to Rs 25 Lakh Crore rupees and every year a huge sum has to be loaned to keep the country going. Demonetisation will help increasing tax revenue and the banks will be stronger. This will directly benefit the citizens of this country.
Union Minister of Steel Vishnu Dev Sai said that businessmen, customers and public, all would be benefited by the historic decision.
In the "Digi-Dhan" Mela, the Chief Minister, Union Minister and other dignitaries drew a lucky draw from Lucky Grahak Yojana, Digidhan Vyapar Yojana and RuPay card yojana to promote digital transactions.
Chief Minister also launched "Mor Khisa" app in this event. This app is a single platform for various digital payments. 5 Kisan Credit cardholder farmers were given RuPay cards. Two of the winners (out of 25), Manoj Agrawal and Arvind Nayar, were made Brand Ambassadors. To encourage digital payments, Poster, Slogan and Jingle competition were organised and winners were given prizes.
Dignitaries present at the function were Water Resources Minister Brijmohan Agrawal, Women and Child Development Minister Ramshila Sahu, Aarang MLA Navin Markandey. CG State Sahkari Bank (Apex Bank) President Ashok Bajaj, Chief Secretary Vivek Dhand, IT and Electronics Deptt. Principal Secretary Aman Singh, CG Ranji Team Captain Mohammed Kaif, IT Secretary Sanjay Shukla, Raipur Collector O P Chaudhary, CHIPS CEO Alex Paul Menon and many representatives of Trade Unions and Chamber of Commerce.
Follow and connect with us on Facebook, Twitter, LinkedIn, Elets video