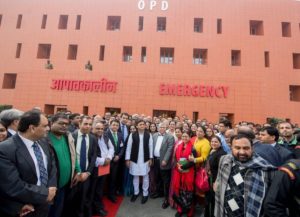 Uttar Pradesh Chief Minister Akhilesh Yadav went on a ribbon cutting spree on Tuesday and set a record of inaugurating 910 projects and schemes in a day. The projects inaugurated were spread in 59 of the 75 districts of the State and cost more than Rs 51,000 crore.
While Akhilesh Yadav went to each Lucknow project to inaugurate them, others were done remotely. With assembly polls likely to be announced any time now, Chief Minister is leaving no stone unturned to woo voters on his development plank.
In a packed schedule, the 43-year-old inaugurated 910 projects, laid foundation stones of 13 more, distributed free laptop to 26,000 students and gave away cheques under the Samajwadi Pension Scheme to a whopping 91,125 beneficiaries.
CM Akhilesh Yadav began the day with a function at his official residence where he inaugurated hospitals, housing projects, swimming pools, a hockey stadium, roads and infrastructure across several districts, educational institutions and bus stations.
Akhilesh Yadav also inaugurated the newly built wing at the Lohia Medical Institute, community health centres in Faizabad, Lucknow's largest 200-bed hospital for pregnant women and newly-born and 80 new hospitals in various districts.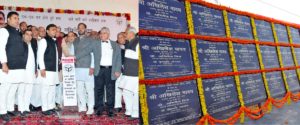 He also inaugurated the international cricket stadium and CG City at Shaheed Path in the State Capital, built on 846.49 acres of land. It comprises an IT City, an Indian Information Technology Institute, a modern dairy plant, a super-speciality hospital, an administrative academy and a modern medi-city and a cancer institute.
The other projects the Chief Minister took up included a State university building in Allahabad, agriculture marketing hubs, rural infrastructure centres, multi-purpose buildings, link roads and guest houses, garlic, vegetable, potato hubs in Kannauj, a solar plant in Mainpuri and a five-storey new OPD at the Sanjay Gandhi post-graduate Institute of Medical Sciences.
There was also the riverfront projects on the Gomti in Lucknow, a fancy, hi-tech and sprawling Chief Minister's Secretariat, the trial run of a small stretch of the Lucknow Metro Rail and the 302-km long Agra-Lucknow Expressway.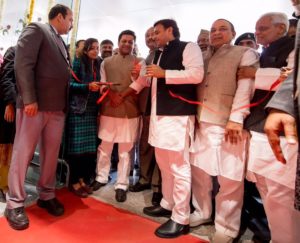 Many projects are also lined up for Jhansi.
A modern facilities equipped Rs 11 crore model, state-of-the-art air conditioned bus terminus was inaugurated at Qaiserbagh in Lucknow.
Inaugurating the main wing of Jai Prakash Narain International Centre and an Olympic size swimming pool, CM Akhilesh Yadav said, "Most of these projects will be complete and available for public use in the next few months. But since it will be after the election notification, the Government can't inaugurate them. We are doing it now so that people are reminded of our efforts and commitment for development in the State."
Follow and connect with us on Facebook, Twitter, LinkedIn, Elets video