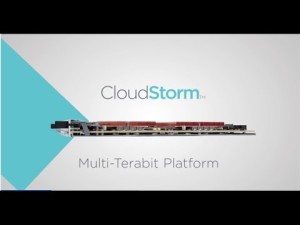 Network testing software and hardware developer Ixia has launched CloudStorm, a multi terabit network security test platform to provide network security testing of hyperscale cloud data centers.

The product will test and validate the increased capacity, efficiency, and resiliency of hyperscale cloud data centers, including how well those centers can handle Secure Sockets layer (SSL) traffic and Distributed Denial of Service (DDoS) attacks.
The new product can simulate mixed applications, malicious traffic, and other network traffic to test those data center designs.
"Extensive encryption is now a reality. Security and application performance validation in this encrypted world needed a dramatic increase in the performance of security test platforms," said Sunil Kalidindi, Vice President of Product Management at Ixia.
"CloudStorm helps customers break the SSL test barrier by delivering a near terabit level of SSL bandwidth with strong encryption ciphers."
Ixia has strengthened its leadership role in the application and security testing market with the introduction of CloudStorm.
It enables users to validate a data center's capacity to handle cloud-scale applications, measure the impact of SSL traffic on performance, and assess Distributed Denial of Service (DDoS) mitigation techniques to handle terabit attacks.
CloudStorm is the first test platform capable of simulating Internet of Things (IoT) devices generating multi-terabit DDoS traffic, which is two times greater than the volume of any previously known attack. This enables customers to validate the performance of hyperscale data centers easily and economically, while improving the security resiliency of their network. This flexible and scalable solution simulates 2.4 terabits of mixed applications, as well as malicious traffic, to test the critical elements of complex data centers, including server applications, storage workloads, and network security devices.
Cloud-based data centers enable enterprises to achieve scale and agility. However, network security and application delivery platforms may not be equipped to handle this volume of traffic, creating security vulnerabilities, as well as impacting availability and performance of business-critical applications.
CloudStorm offers high-performance encryption support with hardware offload, facilitating a cloud-scale volume of SSL traffic.
As a result, CloudStorm offers enterprises and data center operators unmatched encrypted application performance to find the right balance between security with SSL inspection capabilities and application performance with an acceptable quality of experience.
Follow and connect with us on Facebook, Twitter, LinkedIn, Elets video