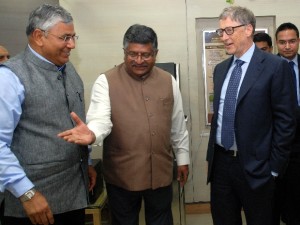 Bill Gates, co-founder of American technology giant Microsoft is keen to partner with the Indian government for technology driven social projects such as e-health, e-agriculture and e-payment.
Gates met Minister of Information Technology, Law and Justice, Ravi Shankar Prasad in New Delhi where he showed interest in partnering with start-ups that can provide these services at the base level.
"Its very exciting times in India and some of these digital platform opportunities are quite amazing. The government has invested in manpower, it has invested in payment banks, and the payment infrastructure. So now is the case for building the applications on top of those, we need to work on the health issue, agriculture applications, etc," said Gates after his meeting with Prasad.
The meeting was attended by senior officers of the IT ministry as well as members of the Bill and Melinda Gates Foundation.
Gates has also showed interest in getting into the payments bank application in India as he wants to streamline the digital payments system for economically weaker sections.
He hailed government's move to demonetise high-value denomination notes, saying it will help to move from shadow to a more transparent economy.
Microsoft will also work with the Indian government on cyber security.
"We had a very profitable meeting, Bill Gates is a true friend of India. He is working enormously in India through his Bill and Melinda foundation. It was exciting to hear his deep interest for digital payments in India and also digital health. I disclosed to him the entire nature of Aadhaar-enabled payments on other platforms and also digital health. And also gave him an outline of entire Digital India programme," the minister said.
Follow and connect with us on Facebook, Twitter, LinkedIn, Elets video