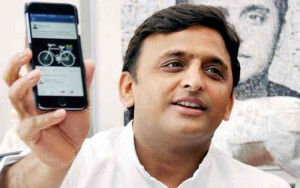 Uttar Pradesh Chief Minister Akhilesh Yadav will formally launch the registration process for the Samajwadi Smartphone Yojana on October 10 here in Lucknow. The Yojna aims at establishing Chief Minister's effort to usher in digital democracy in the State.
Akhilesh Yadav-led Uttar Pradesh Government, after historic free laptops scheme, announced to distribute free smartphones in the State. "The Government has decided to start Samajwadi Smartphone Yojna to help a two-way communication between the Government and people and also take direct feedback on the various schemes of the Government," the Chief Minister said.
While the registration process will start on October 10 with the launch of web portal, the distribution of the smartphones will start in the second half of 2017 on the basis of first come/registration, first serve basis when the new government takes over. The online registration process is being handled by the Department of IT and Electronics, Government of Uttar Pradesh.
Besides, the web portal of Samajwadi Smartphone Yojana, Chief Minister would also launch e-Tanabana of Handloom & Textile Industry Department, Traffic mobile app of Uttar Pradesh Police, two web portals of Department of IT and Electronics-one dedicated to Information Technology while the other dedicated to Electronics, an app for Startups and Jansunwayi Uttar Pradesh application developed by NIC.
"The phone will have a detailed app through which all information about the State Government using audio-visual and text will be provided to people," the Chief Minister said, adding beneficiaries will be selected in a totally transparent manner.
The scheme allows all those who are at least 18 years of age on January 1, 2017, who have an annual income of 6 lakh or under, or who have passed class X to avail the benefits of state's free smartphone scheme. The Government employees and their wards, however, will not be eligible for this scheme.
The Chief Minister was of the view that the Government would think of something that he could give to the next generation through which they can get more information about the government and share their expectations.
The smartphones, once obtained by the government through a global tender, will be delivered to beneficiaries at the respective addresses, shared by the during the registration process.