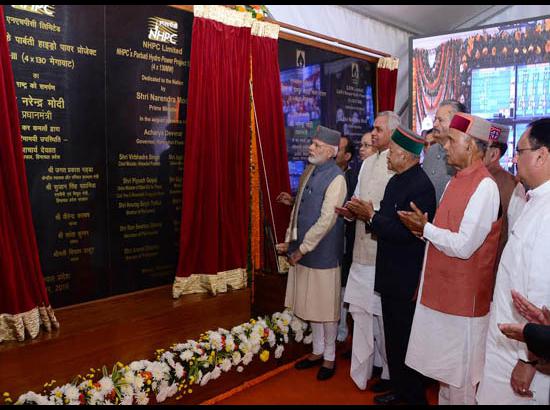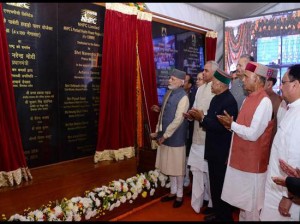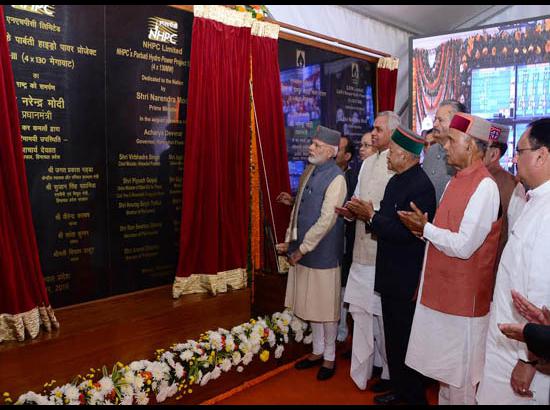 Mandi / Shimla, October 18, 2016
Prime Minster Narendra Modi inaugurated three hydropower projects of 1,752 MW capacity in Mandi district on Tuesday. With this he dedicated to the nation 520 Megawatt generation capacity third phase of Parbati hydro power project, 412 Megawatt Rampur project and 800 Megawatt Kol Dam power project.
Prime Minster Narendra Modi said that inauguration of new hydropower projects will change economic horizon of Himachal Pradesh. Addressing a public rally in Mandi, Mr Modi said, through LED bulbs campaign, Himachal is able to save approximately one crore rupees daily. He said, it is not only helping consumers in reducing their monthly bills but also adding to environmental conservation.
The Prime Minister said, his government fulfilled long pending promise of One Rank One Pension for Ex-servicemen. He said, country is proud of people of Himachal Pradesh who have immensely contributed to the defense forces of the country.
He said, on average one member from every family of the state is in the Armed forces. Mr Modi said, Indian army has made the country proud and its valour is being discussed all over the nation.