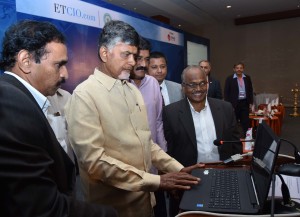 By Sudheer Goutham

Hyderabad : The Hitech Chief Minister of Andhra Pradesh, Nara Chandrababu Naidu, eyes at the futuristic technologies to recreate the story of Hyderabad in truncated Andhra Pradesh state.
In his nine-year regime (199-2004) as chief minister of undivided Andhra Pradesh, Naidu transformed Hyderabad into a modern city that caught public attention as destination for high-paid technology jobs set off a boom in retail, housing and services.
At present, Hyderabad ranks second in software exports only to Bengaluru with Rs. 75,000-crore worth of software exports and employs around 4 lakh people.
By 2024, Hyderabad city, which is currently the joint capital for both Andhra Pradesh and Telangana states, will go into the share of latter which was carved out of erstwhile Andhra Pradesh.
PS Pradyumna, Andhra Pradesh IT Secretary believes the IT industry will not grow the same way as it grew in the past decade. "We have to focus on the futuristic technologies and foster them. This is the vision of our chief minister," he said.
Naidu and his team identified a set of futuristic skill sets like cybersecurity, financial technology like blockchain and internet of things, and are creating labs and courses in universities to boost skills.
As a new acquisition on its board , AP has roped in Tirumalarao Chamalla, the former head of IT firm Happiest Minds' banking unit, as president of its IT and Electronics Society to attract technology companies to the state.
The society has Rs 200 crore in funding and a mandate to create technology jobs not just in Amaravati and Visakhapatnam but also in growing towns like Hindupur. In the process, the AP IT department partnered with countries like Israel on cybersecruity and the University of California, Berkeley, to create a blockchain centre in Vishakapatnam.
"We have signed an MoU with the Monetary Authority of Singapore to develop Vizag as a fin-tech hub," said Tirumalarao Chamalla
Andhra Pradesh has been the pioneer in adapting the technology for its socio-economic development. Carrying forward its trend as a leader, the state government is concentrating on next-generation skill to attract the investments. The new-age industries in IT that are in focus are robotics and digital space, which are seeing the maximum growth and will help in employment generation
In the backdrop of several challenges before the state government, recreating Hyderabad's success in the Andhra Pradesh is a personal mission for Chandrababu Naidu, says his team.
Follow and connect with us on Facebook, Twitter, LinkedIn, Elets video