Telangana has already taken off. And taken off well in terms of Information Technology industry. With the dynamic and young leadership in charge of IT, state government is leaving no stone unturned to make Hyderabad as vibrant as Silicon Valley. Sudheer Goutham of Elets News Network (ENN) writes an insightful story on this.

KT Rama Rao (KTR) is on a mission. The Minister of IT of Government of Telangana wants to transform the way Information Technology is empowering people and institutions globally and make Hyderabad the country's most sought-after destination in the Information Technology Industry.
Towards this vision, the Department of Information Technology, Electronics and Communication (ITE&C) has unveiled as many as eight official policies for allied markets within the IT industry such as – Cyber Security, Data Analytics, Data Centre and Open Data, Rural Tech Centres, Innovation, Electronics, Gaming and Animation. The Department believes that these blueprints will attract niche players in these specialised markets.
"We have so far unveiled eight policies – four in April and an equal number in September this year. Two more — Internet of Things and Smart Technologies and e-waste management – are offing within two months," says KT Rama Rao, who is fondly known as KTR.
Perhaps, Telangana is the first State in the country to come out with a comprehensive set of blueprints on specialised technology markets going beyond IT and ITeS Industries. "These policies highlight the vision and direction of the State Government," the Minister says.
The government was good at visiting global tech hubs like Silicon Valley, etc., meeting global business leaders and projecting a probusiness attitude and showcasing Hyderabad's innovative environment
IT Growth in Telangana
The image of Hyderabad had taken a beat for a year or more in the wake of agitations for the demand of the separate statehood. The city had witnessed the peak of the movements during 2013 and 2014. Today, Hyderabad is the capital city of Telangana, one of the 29 states in India. Following the unveiling of the marketwise policies, the Department feels that it is a bounce back for Hyderabad as a technology destination. Hyderabad's IT growth was lull for over four years prior to creation of the youngest state Telangana. However, soon after the formation of Telangana in June 2014, KTR, and his team were quick to go on a drive to set the records straight.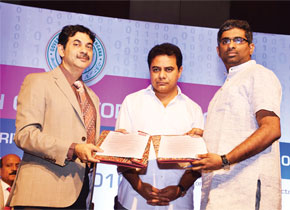 Realising that it is not easy to beat Bengaluru, the leader of software exports in India, the KTR and team went onto identifying newer opportunities.  In the process, data analytics, cloud technology, internet of things (IoT), gaming and animation, start-ups, data centers— that other states are yet to claim on— were identified.
"Telangana is the first state to rightly identify the need to move beyond traditional IT/ITeS and diversify into new and emerging technologies such as Data Centres, Open Data, Cyber Security, and Data Analytics. We are confident that these allied policies shall attract niche players from across the world and further stabilise Telangana's position as the front-runner in IT/ ITeS and emerging technologies," says Jayesh Ranjan, Secretary, Department of Information Technology, Electronics and Communication (ITE&C), Government of Telangana.
Global Leaders in Hyderabad
The government was good at visiting global tech hubs like Silicon Valley, etc., meeting global business leaders and projecting a pro-business attitude and showcasing Hyderabad's innovative environment.  As a result, world's top technology companies decided to set up base in Hyderabad—choosing it over other cities such as Bengaluru, Delhi National Capital Region (NCR) and Mumbai.
In addition to Microsoft and Facebook, the high profile tech companies such as Google and Amazon announced that they would have their biggest campuses outside home base US, in Hyderabad. Amazon has already commenced construction of a campus, as big as three million sq.ft, which is set to open by 2019. Taxi aggregator Uber Technologies opened its first service centre in Asia in Hyderabad during February.
In June, Salesforce, one of the world's top cloud computing companies, has launched its largest engineering and customer success centre in Hyderabad. On the other hand, Apple established its first development centre in India that is in Hyderabad. One of the key factors in the success rate of Government of Telangana was projecting Hyderabad as an attractive (and cheaper) alternative destination to Bengaluru whose infrastructure was already bursting at its seams.
In addition to this, Hyderabad's biggest advantage was a readily available talent pool of engineers graduating from the likes of IIT, IIIT and BITS-Pilani, among other engineering schools around the city.
Follow and connect with us on Facebook, Twitter, LinkedIn, Elets video