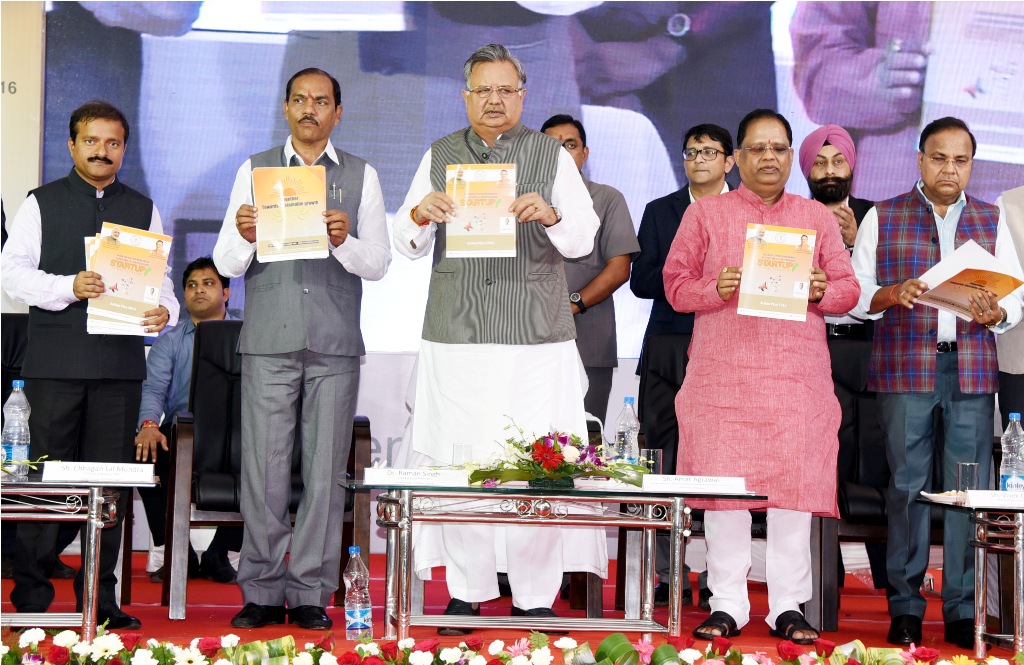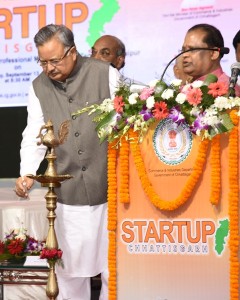 By : Arpit Gupta
With the launch of 'Start-up Chhattisgarh', the State Government has started its mission to promote start-ups in Chhattisgarh, which is known for its business-friendly ambiance. Chief Minister Dr Raman Singh launched 'Startup Chhattisgarh' at Shri Shankaracharya Institute of Professional Management & Technology, Raipur, along with Industry Minister Amar Agrawal in the presence of Chairman, CSIDC Chhagan Lal Mundra and Chief Secretary Vivek Dhand.
After launch of Start-up India by the Prime Minister in January, 2016, States were to prepare their action plan and start implementing the same. In line with the Start-up India Action plan, the State Government launched Start-up Chhattisgarh Action Plan 2016 for promoting start-ups in Chhattisgarh and announced that boot camps would cover all 27 districts of the State. The boot camps would be used as a platform for start-ups to present ideas and the best out of them would be selected for incubation. The incubatees would be provided support in developing their business plan, building a prototype, market testing of the product/service and funding. All the activities during incubation process would be conducted with help of startup gurus and subject matter experts.
This event turned out to be a rostrum for entrepreneurs coming from different walks of life and providing services for varied sector. While some entrepreneurs were professions who had given up their jobs to fulfill their dream, others were students who had just passed out of college. Start-ups which participated in the exhibition had a wide array of services/products such as healthcare, home services, e-commerce and sensor based technologies.
Subodh Singh, Secretary, Department of Commerce & Industries during his welcome address, mentioned about the evolution of start-ups and that India currently is one of the largest hotbeds of innovation and startups in the globe. He also told the gathering about Chhattisgarh Innovation and Entrepreneurship Development Policy, which was launched by Prime Minister Narendra Modi.
Vivek Dhand, Chief Secretary while addressing the gathering of budding entrepreneurs said that there is an emerging need of startups to provide new technology and innovation to core sector industries for increasing efficiency and automisation of production.
Amar Agarwal, Minister, Department of Commerce & Industries expressed the importance of skill development in area of entrepreneurship. He said that for any business to progress, skilled employees are the key and hence lot of efforts are being made by the Government to skill youth of the State.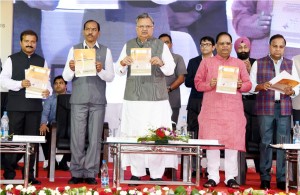 Chief Minister Dr Raman Singh in his address said that youths need to be fearless to bring their ideas into commercial products. He talked about his journey as the Chief Minister of the State and how he had to resort to innovations to attain the aspirations of citizens of the State. He explained how he got a solution for improving railway connectivity without budgetary support of railways. He said that his Government is committed to make 'Start-up Chhattisgarh' a grand success in the State and would extend full support to develop the enabling ecosystem for Start-ups in the State. He told that innovation would be promoted in schools and colleges under Atal Innovation Mission. CM congratulated the young team of Department of Industries led by Subodh Singh, Secretary, Industries for their efforts for making the State business and innovation friendly.
Dr Raman Singh along with other dignitaries launched a dedicated website (www.startupcg.com ) for handholding and support to start-ups in the State. Start-up logo and poster for the 'Start-up Chhattisgarh' were also launched in the event. Dr Singh won the cheer of the crowd with the following announcements to nurture and support Start-ups in the State of Chhattisgarh:
Subsidy of 75 per cent on term loan for 6 years upto Rs 70 lakh
Fixed Capital Subsidy of 35-40 per cent upto Rs 3.5 cr
Electricity Duty exemption for 10 years
Stamp duty exemption for land purchase or lease
First 36 start-ups established in the state would be reimbursed all state govt taxes paid by them for first 3 years.
Apart from this, assistance will be given in preparing project report, quality certifications, technical patent costs.
All MSME's Start-up shall be eligible for 60 per cent subsidy on land premium in Govt industrial parks
Also, all the start-ups shall be given facility to do self-certifications for various state laws.
This initiative strengthens PM Narendra Modi's vision of Start-up India which aims at fostering entrepreneurship and promoting innovation by creating an ecosystem that is conducive for growth of startups. Recognising that the new Start-up wave is a major job creator and the agent of change for prosperity, the Govt of Chhattisgarh is committed to promote new ideas to become established ventures by developing a conductive Startup ecosystem. This would be done by coupling various policy initiatives available with various departments of state and central government like DIPP Startup India, Innovation Policy of Chhattisgarh, Food Processing Policy, EODB initiatives of Dept of Commerce and Industries. In addition to these existing policy initiatives Government of Chhattisgarh is planning to create innovation infrastructure across all the districts so that ideas can emerge into life changing products and services. Under this initiative, Government also aims at nurturing startup companies which are much closer to the local environment. Preference will be given to startup in priority sectors, healthcare, animal husbandry and value addition of core sector products.
This initiative is designed in such a way as to attract start-up leaders, mentors, angel investors and venture capitalists across the globe to participate and become part of the Chhattisgarh growth story. CM personally believes this initiative can provide wings to a lot of young talented people for becoming tomorrow's entrepreneurial leaders. All youth, working professionals and students present at this launch event made the most of this unique knowledge acquisition opportunity on start-ups.