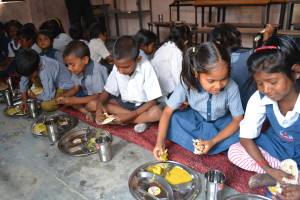 The Prime Minister Office (PMO) is all set to link Aadhaar with governmental schemes related to kids and make the enrolment necessary for children covered under such benefits.
The schemes that will be linked to Aadhaar include Mid-Day Meal Scheme, Sarv Shiksha Abhiyan (SSA), Rashtriya Madhyanmik Shiksha Abhiyan (RMSA), Integrated Child Development Services (ICDS) and Integrated Child Protection Scheme (ICPS).
India has as many as 98 per cent people covered under the ambit of Aadhaar with only 23 per cent of children below five years and 65 per cent of children aged between 5-18 possessing the unique identification number. This is because the parents didn't see much use in getting their children enrolled for Aadhaar.
Out of the 23.42 crore people without an Aadhaar in the country till date, 21.71 crore are children. Presently, the government provides mid-day meals to 11 crore children in the country.
The proposed set up does not mean that children without an Aadhaar will be denied a meal. In fact, they will be enrolled for one in case they will be found without their unique identification number.
The Women And Child Development (WCD) and Human Resource Development (HRD) Ministries and Unique Identification Authority of India (UIDAI) have been asked by PMO to advise states that grants given to schools or anganwadis should be based on Aadhaar-based enrolment and children are to be enrolled for Aadhaar.
Follow and connect with us on Facebook, Twitter, LinkedIn, Elets video