Maharashtra has become one of the major centres for developing smart cities, with its 10 cities getting place in the list of 98 cities selected by the Central Government. Out of these, four cities are in Mumbai Metropolitan Region (MMR), where U P S Madan, Metropolitan Commissioner, Mumbai Metropolitan Region Development Authority (MMRDA), is drawing the roadmap for developing those. Excerpts from an interview with Poulami Chakraborty of Elets News Network (ENN)
In what ways is MMRDA associated with the Central Government's Smart Cities Mission?
It is indeed a brilliant initiative by the Government of India to develop about 100 cities as smart and fortunately, in our state, there are 10 cities nominated out of these 100. Out of these 10 cities, four cities happen to be in MMR where MMRDA is the planning authority. A lot of developmental work for infrastructure and building of smart cities goes on in this region and incidentally, I have been chosen as the mentor for smart cities in the Kalyan-Dombivli area, to help them succeed in the projects of smart cities and mapping out the roadmap for Kalyan to convert it into a smart city.
At MMRDA, we have agreed to support Kalyan Dombivli Municipal Corporation (KDMC) till they get funding from the Government of India. Personally, in my individual capacity, I have been closely involved since the first day for designing the project, preparing the roadmap, etc. Having worked with KDMC Municipal Commissioner E Ravendiran for the past three years, we at MMRDA know the region well and can contribute in its planning which can be useful to the city. Hence, MMRDA is trying its best and is contributing in the best possible manner, so that the KDMC smart city takes off at the earliest.
Please elaborate on the MMRDA's roadmap for smart city development in MMR.
We at MMRDA are the regional planning authority for the entire MMR. In a new plan, we have proposed out a number of infrastructure development-related plans for the municipal corporations and councils in its jurisdiction. Though there is no specific mandate for MMRDA for developing smart cities, we have been working on it and plan to develop a few growth centres. The idea behind these growth centres is that they will be working in line with the whole smart city concept. We have thus, taken up one growth center that will promote and advocate growth for the Kalyan region. There are 27 villages which were earlier considered outside KDMC; however, with the help of this growth centre in Kalyan, we are able to include these 27 villages to be a part of KDMC. In 10 villages, we have taken up an area of 1,089 hectares of land to develop a growth centre which will work in lines with the smart city concept, initially to begin with. Here all possible and required amenities and infrastructure will be provided, so that it meets the need of a smart city.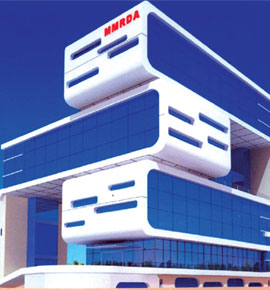 What are the key criteria that a city must meet to become a Smart City?
There are several parameters on the basis of which a city is rated as a smart city. There are several amenities that a city should provide to its citizens like 24/7 water supply, electricity, cent-percent coverage of sewerage and drainage in the city, adequate facilities for education and healthcare, public transport services, IT connectivity, etc. Again, when we talk about adequate water supply, it should be ensured that there is sufficient clean and purified water supply for human consumption, with barely any wastage or theft of the resource. Another aspect that plays a significant role in building a smart city is the use of technology in civic amenities. For example, to identify and locate leakage issues in pipeline, one uses technology or IT to identify the exact location of the leakage and thus, ensure that the issue gets resolved.
MMRDA is helping municipal corporations by providing them with grants or funds. We have also provided a large number of public toilets in Kalyan to ensure cleanliness and hygiene
Municipal corporations are the bodies responsible for the upkeep of n urban area. What sets Kalyan-Dombivli apart from others?
The biggest USP of Kalyan-Dombivli region is its location and it is located in the financial capital of the country. Given its proximity to Mumbai, the importance of the Kalyan-Dombivli region is growing with each passing day. Secondly, the region is very well connected through rail, road and air. If this region can have a little more open area, this can be made to grow into a separate smart city having its own financial centres. With that happening, we can create job and business opportunities within this region; thus, retaining people within the region instead of making them travel to other parts of the city. So, the potential of the Kalyan region to emerge as one of the smart cities in the State is already there.
Cleanliness is one of the key aspects of a smart city. How is MMRDA promoting the Central Government's Swachha Bharat Mission in MMR?
Though Swachha Bharat is one of the key initiatives taken by the Government of India, by our Hon'ble Prime Minister Narendra Modi, the concept has to grow from the grassroot level. Besides, there is an urgent need to ensure that the local citizens are provided with the best-in-class eGovernance and ICT facilities. Also, it is important to ensure good infrastructure and other facilities needed for hygiene and sanity for improving people's lifestyle. MMRDA is helping municipal corporations by providing them with grants or funds for all these procedures and facilitations to address these issues. We have also provided a large number of public toilets in Kalyan to ensure cleanliness and hygiene.
Today, IT has been adopted by almost all sectors to ensure improved efficiency. What role can IT play in the development of a smart city?
IT initiatives are, in fact, one of the most important components of a smart city. The smartness usually comes from the usage of IT with more and smarter management systems. Whether it is to provide efficient water management systems or to provide state-of-the-art healthcare or education facilities, the use of IT is very important.
Follow and connect with us on Facebook, Twitter, LinkedIn, Elets video