Little would have the citizens of Jabalpur realised that they would soon be on way to becoming the proud denizens of a Smart City. On the lines of the age-old cliché "of the people, for the people and by the people", Jabalpur is all set to become a high-tech, new-age city on the back of the efforts of its citizenry only, writes Gautam Debroy of Elets News Network (ENN)
About 2.5 million population of Jabalpur were in for a pleasant surprise when came to know that their small but beautiful city had been included in the Government of India's first list of 20 cities to be made "smart" under the Smart Cities Mission (SCM).
Jabalpur stood at seventh number in the list, while the two other cities of Madhya Pradesh Indore and Bhopal were placed at 11th and 20th position, respectively.
"It was due to the enthusiasm, a keen desire to achieve the coveted status of Smart City and the necessary cooperation on the part of the people of Jabalpur that we jumped to the seventh slot," said Dr Swati Sadanand Godbole, Mayor of the Jabalpur Municipal Corporation (JMC), in an interview to Elets News Networks (ENN).
The elaborate proposal that was submitted to the Ministry of Urban Development by the JMC incorporated city's profile, area-based development concept, a pan-city proposal, implementation of various plans as well as nancial strategies.
However, the point that was highlighted most by the Corporation in its proposal is the untapped potential of tourism and garment sector.
"We highlighted in the proposal the scope and prospect of the tourism and garment sector. In fact, we want to make Jabalpur a gateway to eco and ethnic tourism as well as a garment hub," Jabalpur Municipal Commissioner Ved Prakash told ENN.
In fact, its excellent road condition, rail and air connectivity, adjoining national parks and sanctuaries plenty of excellent water bodies, vast forest and tribal land project Jabalpur as a natural gateway to eco and ethnic tourism.
"The City of Jabalpur can be developed as a hub to facilitate and harness the potential of all sorts of tourism and recreational activities related to nature, ethnicity and culture," said Prakash.
Over the last decade, Jabalpur has witnessed a phenomenal growth in the garment manufacturing sector. At present, more than 50,000 skilled workers are employed in this sector. This activity can further be organised and taken forward on professional lines by developing forward and backward linkages using IT solutions.
Jabalpur has excellent rail-road and air connectivity, and its adjoining national parks and sanctuaries are filled with plenty of excellent water bodies. Its vast forest and tribal land project makes the city a natural gateway to eco and ethnic tourism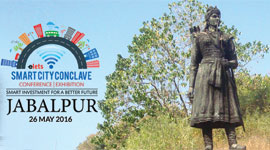 At a recent meeting in New Delhi with the National Skill Development Corporation (NSDC), Commissioner Prakash even explored the possibilities of skilling the youth of Jabalpur.
"Yes, Jabalpur has a good potential in several sectors. We are ready to extend a helping hand for both skilling of the youth and overall development of the city," said Jaikant Singh, head, Partnership & State Alliance of NSDC.
The SWOT analysis of the smart city proposal submitted by the JMC reveals a structural shift in the economy from large-scale manufacturing to small-scale firms with informal workers, and an increase in the service and knowledge-based industries.
The proposal also highlighted some of the critical issues that the Corporation is fighting with.
Jabalpur did not witness a rapid industrial growth, preventing emergence of new avenues of employment. It is reected in its industrial growth rate of 29.49 percent as against the national average of 31.80 percent.
Although major roads are covered by the public transport system, feeder roads are yet to be covered by the same. The issue of last-mile connectivity needs to be addressed.
However, Jabalpur has good citizens' involvement that has led to the quality of governance being good.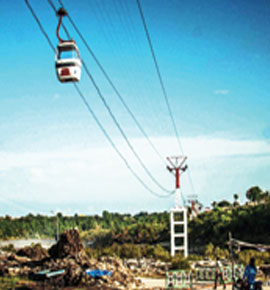 The Municipal Commission, too, has carried out intensive citizen engagement exercise for preparing the Smart City proposal. The total outreach was more than 2,56,300, which is about 20 percent of the city's population. The exercise was extensive both in terms of participation as well as diversity of mediums used.
The extent of consultation through various online media was more than 99,462 and through oine media was over 1,56,838. And, the consultation covered diverse segments of the society, including students (41 percent), women (7 percent), senior citizen (5 percent), businessmen/traders (12 per cent), service providers (17 percent), and specially-abled children, slum dwellers and helpers (18 percent).
Jabalpur's citizens engagement strategy "Samvad" was targeted at reaching out to the maximum number of citizens to be a part of the process to shape city's future by co-creating solutions for common urban problems – all resulting in a smarter Jabalpur.
Jabalpur has a unique location, surrounded by hills, built around water bodies, structured by cantonment area, railway lines and river.
The area-based development (ABD) strategy for Jabalpur is, in fact, an opportunity to contribute positively to the urban landscape through a compact, well-designed development model that integrates with the existing urban structure.
   JABALPUR AT A GLANCE
Population (2011 census): 2,463,289
Male: 1,277,278
Female: 1,186,011
Population Growth: 14.51%
Average Literacy: 81.07%
Male Literacy: 87.29%
Female Literacy: 74.37%
No. of Blocks: 07
No. of Tehsils: 07
No. of Gram Panchayats: 542
Area (Metropolis): 367 sq km (142 sq mi)
The ABD may also have government, spatial, economic and social impacts –
Government impact: Improvement in service provision and recovery of charges on account of establishment of SPV.
Spatial impact: Built form changed to incorporate more density or more public space.
Economic impact: New commercial space created for organised economic activity.
Social impact: Poor and declining neighborhoods will be provided affordable housings.
Sustainability including environment impact: Intensive 24/7 use of public space results in reduced traffc and reduced pollution.
In pan-city angle, too, JMC is a pioneer in solid waste management (SWM) and waste to energy (WTE) in the State. Thus, leveraging existing effort in the city, RFID-based, real-time, smart waste management system has been selected as a pan-city initiative.
Now, Jabalpur and its administration are all set to implement the projects necessary to transform it into a Smart City. Union Urban Development Secretary Rajiv Gauba recently called a meeting of a few cities (selected in the first list), including Jabalpur, to discuss the road ahead for developing Smart Cities across various states in India.
Gauba, according to the government officials, in the meeting asked the municipal commissioners to expedite implementation of the Smart City projects in their respective cities.
The Union Cabinet has allocated `48,000 crore towards creation of smart cities and each city will be funded Rs. 100 crore per year for the next five years.
There will be an Initial investment of Rs. 5,000 crore for the selected cities to prepare City Development plan. Allocation of funds to be provided by the Centre will be 60 percent in infrastructure, 10 percent for e-governance initiatives and the rest will be equity contribution for building townships, along with private developers.
Each state will form a Special Purpose Vehicle (SPV) for smart city nancing, it has been decided.
The total project investment under the Jabalpur Smart City project, to be spent across mission period (2016-17 to 2020-21), is `3,998.5 crore. It has already formed SPV under the chairmanship of Jabalpur District Magistrate Mahesh Chandra Choudhury, whereas Gajendra Singh Nagesh, the Additional Commissioner of Jabalpur Municipal Corporation, has been appointed CEO-SPV.
"Now we will denitely implement all the projects in a phased manner. Jabalpur is very rich in tourism and garment sector, so we will also try to bring big players to invest in this city," said Choudhury.
Jabalpur now wants big investment on its soil and that is why they are ready to extend all possible help to the big players and corporates.
"We are ready to provide all necessary help to the domestic as well as foreign players, who are ready to come and invest in Jabalpur," said Commissioner Ved Prakash.
Jabalpur on Smart City Path-Challenges & Opportunities
Dr Swati Sadanand Godbole, Mayor, Jabalpur
---
Jabalpur on Smart City Path-Challenges & Opportunities
Mahesh Chandra Chowdhary, District Magistrate, Jabalpur
Follow and connect with us on Facebook, Twitter, LinkedIn, Elets video