GenitekSolutions Pvt Ltd works on four pillars framework — result, process, capability and creative ideas — and it has helped around 39 different verticals grow in their business by more than 300 per cent over a very short period of time, says Arup Ranjan Dey, Founder and CEO of the company, in an interview with Arpit Gupta of Elets News Network (ENN).
Tell us something about the company's profile and the kind of products and services it offers
Genitek Solutions is a management consulting company which offers creative ideas, online branding solution, digital marketing, IT ser- vices and cloud services. Our solutions are meant for both, new and existing businesses, to maximise their ROI. We help our customers deal with the complexities by providing specialised services. We draw strategies for our clients, measure capability of their organisation and give creative ideas, along with the market analysis. We have case studies where we turned businesses from different verticals by more than 300 per cent in a very short duration.
Genitek offers so many diverse services. What are your flagship products or services, and why?
Management consulting is our flagship service. Most of the businesses start with a very high and extraordinary vision. When they land up dealing with cash flow management, talent recruitment, customer relations, marketing, etc., issues, they need our services. It is not possible to run a busi- ness without managing the fundamental aspect of the business market analysis. We provide management consulting, branding, IT solution and other fundamental platforms to improve the business of any organisation from one level to another in terms of maximising ROI.
SMAC – Social, Mobile, Analytic and Cloud – is the new emerging paradigm for any business. Combining these four drivers for business productivity gives you a holistic solution in transforming your organisation as a highly functional and productive entity with the capability of managing future business challenges.
GENITEK SOLUTIONS PVT LTD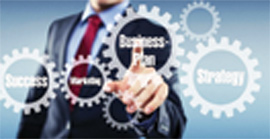 Genitek Solutions Pvt Ltd is a Management Consulting, IT Services Firm with Analytics and online branding solutions that serves leading and midsized businesses, governments and non-government organisations and not-for-profits across the globe. The focus of the organisation has been to help clients make improvements in their performance and realise their goals by guiding them in the right direction. Over a decade, the company has built a firm uniquely equipped to this task and producing results for our clients consistently. It studies markets, trends and emerging best practices, in every industry and region, both within and outside the country. It offers creative ideas that give the clients an access to solve any logical problem which causes the business results and impacts the ROI.It follows the four-pillar methodology framework — Results – Process – Capabilities – Creative Ideas. The speed of economic and technological changes means that the right path yesterday may not work today and could be a disaster by tomorrow. With this, tough economy, new technologies, expanding global markets, greater competition organisations become more flexible and responsive, to operate in a riskier, costlier and more complex environment. In fact, 95 per cent of executives feel that complexity is their greatest challenge. While these dynamic problems can be a burden, it is also an oppor- tunity – to create new and better strategies, develop new products or services, expand into new markets, rethink business models and become more efficient to gain competitive advantage. In short, Genitek guards client confidence and creates value for the client substantially.
Specialties
Management Consulting, Analytics, Digital Marketing, Search Engine Optimisation, Web Development, Cloud Computing, Social Media Marketing, IT Services, Banner Advertisement and Creative Ideas Website: http://www.genitek.com
Industry
Management Consulting, Marketing Consultants and also specialised in SMAC – Social, Mobile, Analytic, and Cloud Founded: 2005
Headquarters
Level 8, Tower 1, Umiya Busi- ness Bay, Cessna Business Park, Kadubeesanahalli Marathahalli – Sarjapur Outer Ring Road, Bangalore, Karnataka – 560013
Most of the government services and businesses are shifting to cloud. What kind of role do you play there?
Fundamentally, we have to understand the IT infrastructure and how much cost can be saved by shifting on to cloud platform. Cloud enables multiple people accessing documents from different locations and sharing the files in a secure way. Our system is fully protected and it cannot be hacked. We have tied up with different data centres to offer cloud services. We have an IT team which looks after operation and maintenance. Genitek offers broad management consulting skills combined with implementing creative ideas, IT services and digital marketing, and 24×7 customer support.
How Genitek is different from others when it comes to management consulting?
Genitek Solution's methodology works on four-pillar framework, i.e. result, process, capability and creative ideas. Our core expertise is to facilitate our clients about finding the different gaps, which actually are the revenue leakage points for marketing activities for them and then we fill up the gaps. This gives our customers the business growth, which they deserve, in a very short span of time. We also float creative ideas to achieve desired results. We are committed to deliver the results by conceptualisation, finding market gaps and implementing creative ideas. We study markets, trends and emerging best practices in every industry and region, locally as well as globally.
Digital India and Smart Cities are all about digitisation and IT application. What kind of role do you see for yourself there?
India is not well-equipped in terms of digital marketing. Although we are talking much about Smart Cities, the actionable things to make this dream come true have not yet happened. India is currently rated very low in digital marketing, so there is a huge requirement of people from genuine digital marketing companies. We need to bridge the gap among end-users in understanding the role of digital marketing in implementing initiatives, like Digital India and Smart Cities. With the best creative ideas and cutting-edge IT solutions, Genitek is planning to build its presence across all major Indian cities.
As an IT & ITeS company, what is your take on the Union Budget 2016-17?
The Union Budget 2016-17 is a good attempt made by the Government to fulfil the needs of people from different walks of life. However, now the focus should be proper execution of the proposals, and the provisions made in the Budget in a channelised way.
Follow and connect with us on Facebook, Twitter, LinkedIn, Elets video