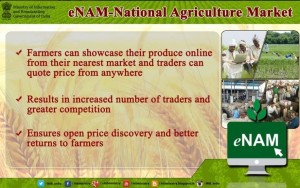 In line with the government's 'pro-farmer' Union Budget 2016, which set the tone for reforms in the field of agriculture, Prime Minister Narendra Modi has launched a 'National Agriculture Market or eNAM', to bring about some revolutionary changes in the sector.
Keeping in mind that about 58 per cent of the Indians are dependent on agriculture for their livelihood, the government rightly decided to include them in the Digital India movement, so as to reach them the maximum benefit of technology.
With the launch of eNAM, 21 mandis across eight states are now interconnected, exposing farmers to an entirely new way of conducting business — a way which will enable them to get more returns, induce more transparency and use technology for maximum effects.
Experts have hailed the National Agriculture Market as a game changer.
Agriculture e-trading platform or eNAM will connect 585 regulated wholesale market or Agriculture Produce Market Committees (APMCs) under one roof.
As of now, farmers can only sell their products to the nearest mandis, where middlemen negotiate the prices, and mostly, the farmer is left with a fraction of what has been traded.
But with eNAM, any farmer can connect with any buyer, across any wholesale market, and get maximum price of their products.
Speaking on the occasion, the Prime Minister explained to the farmers various initiatives that have been undertaken, and what more can be done to raise agricultural incomes.
Follow and connect with us on Facebook, Twitter, LinkedIn, Elets video