Company Profile
MeritTrac is India's largest pure play Testing & Assessment services company in the private sector. MeritTrac provides innovative assessment services to leading educational institutions, government organizations and corporate entities.
MeritTrac is a 100 per cent subsidiary of Manipal Global Education (MaGE), which is one of the largest and most acclaimed education service providers in the country. As a leader in the testing space, MeritTrac has been leveraging its ISO certified test processes in transforming the way tests are designed, managed and delivered in India. It offers high levels of reliability, quality and security for consistently delivering large scale testing exercises.
In addition to delivery of Paper-based tests and Computer based exams, MeritTrac offers examination services like Online Application Processing, On Screen Marking (OSM) and biometrics-based candidate Authentication.
Over the past 15 years, MeritTrac has garnered significant expertise in Test Research, Test Development, and Test Delivery & Administration for CBT/online as well as pen and paper tests.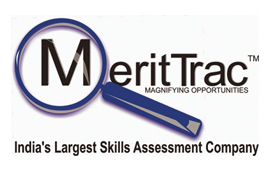 Digital Edge/Power of Brand
MeritTrac is a premier Testing and Assessments company in India. MeritTrac has 16 years of experience in testing and assessments having assisted a wide range of organisations in the Government, Education and Corporate sectors.
MeritTrac has one of the largest team of testing and assessment. It has one of the widest presence of computer based test centres in the country with a presence in over 280 cities.
MeritTrac's examination processes are ISO 9001:2008, ISO 27001: 2013 compliant and with CERT-IN certified test engine, ensuring highest levels of quality and security of services it offers. MeritTrac's initiatives of working towards the betterment of the industry have translated to establishment of India chapter of Association of Test Publishers, a global association of testing and assessment companies.
Product and Services Examination Services:
MeritTrac offers end to end examination services from Application processing to Results processing. The services offered by MeritTrac include:
Application Processing and Hall Ticket Generation
Content / Question Paper Development
Venue Identification and Booking
Test Administration
Biometric Candidate Authentication
Result Processing
Digital Evaluation / On Screen Marking
Target Verticals
Central Government Departments
State Government Departments
Public Sector Undertakings
Public Sector Banks
Educational Institutions: Universities, Educational Boards, Autonomous Institutions
Corporate
IT / ITeS
Banking & Insurance
Retail & Manufacturing
Automobile
Achievements
MeritTrac has successfully delivered over 34 Million Exams for more than 400 customers; 16 Million exams delivered in the Computer Based mode.
Recognised as Testing & Assessment company of the year in 2015-2016
Instrumental in most successful examination transformations in India for Computer Based Tests, Digital Evaluation and Technology based Candidate Authentication
Administered some of the largest exams in the country for Government organisations and Educational Institutions
Year of inception: 2000
Ravi Panchanadan
Chief Executive Officer
No of employees:250+  

Head Office
Market Square, No.12/5,4th floor, Kaikondarahalli, Varthur Hobli, Sarjapur Main Road, Bangalore, Karnataka-560035, India
Email: info@merittrac.com Mobile: +91-8071819100 Web: http://www.merittrac.com/
Follow and connect with us on Facebook, Twitter, LinkedIn, Elets video