In line with the Government of India's 'Make in India' programme, the Chhattisgarh Government is going to raise an Electronics Manufacturing Cluster over a 70acre piece of land. It is expected to attract an investment of Rs. 2,000 crore from the private industrialists and generate about 4,000 employment opportunities, writes Arpit Gupta of Elets News Network (ENN)
Chhattisgarh will have one of India's seven greenfield manufacturing clusters in Naya Raipur soon as a part of the Government of India's 'Make in India' mission. Prime Minister Narendra Modi laid the foundation stone of Electronics Manufacturing Cluster during his visit to the modern capital city of Chhattisgarh.
The Electronics Manufacturing Cluster will be set up in an area of 70 acre and is to be developed at an estimated cost of Rs 89.22 crore, including a component the of Centre's grant of Rs 43.07 crore. The cluster will have all facilities, such as "atted factories which are high-rise, multi-tenanted developments with common facilities such as passenger and cargo lis, loading/unloading bays and car parks, tool rooms, warehouse, waste management system, smart service centre, skill development centre and hospital.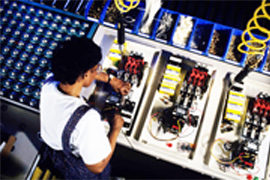 The proposed cluster will have facilities for manufacturing of LED Lights, Solar panels, tablets, mobile phones, IT hardware, set-top boxes, and electronics and electrical automotive. The Chhattisgarh government expects to attract an investment of Rs 2,000 crore from the private industrialists which could generate employment opportunities. About 4,000 youth are likely to get employment in 61 electronics parts units.
As many as 11 investors have already signed memorandum of understanding (MOU) with the state government, proposing an investment to the tune of Rs 940 crores in the upcoming electronic manufacturing cluster. Among the investors is" Jaina Mobiles Industries. Core Incubator-Cum-Accelerator will be established here.
Chief Minister Dr Raman Singh said that setting-up of pollution-free industries in the State is on the priority list of Chhattisgarh Government. It is a major achievement in the direction of establishing pollution-free industries of Non-core sector in Naya Raipur.
The state-run Chhattisgarh State Industrial Development Corporation (CSIDC) would be the nodal agency to implement the project that would be completed over a period of three years.
Notably, under the Make in India initiative, the Centre has proposed seven green field manufacturing clusters-in Naya Raipur (Chhattisgarh), Bhopal & Jabalpur (Madhya Pradesh) Bhiwandi (Rajasthan), Adityapur (Jharkhand) Karnool (Andhra Pradesh) and Falta (West Bengal).
As of now, there is minimal presence of ESDM sector in the state. However, with its inherent strengths, the state has immense potential to become an ESDM hub of the country. Chhattisgarh has emerged as a lucrative investment hub among its competing states with sectors like power, mining and minerals, manufacturing, sponge iron and steel, IT/ITes, biotechnology, food processing, etc. becoming key investment drivers and has attracted both domestic and foreign investment over the past few years.
The state is steadily garnering support from the investors, transforming it to a manufacturing and power hub of the country.
Naya Raipur
Naya Raipur, the new capital city of Chhattisgarh offers a plethora of opportunities for development of industrial infrastructure in the State. Naya Raipur houses world class amenities like Knowledge Center with university, research and institutional complexes, 18-hole Golf Course, eme Township, Convention Centre, Shopping Malls and Multiplexes. Naya Raipur provides for an ideal location for development of non-polluting light & service industries in the State. Naya Raipur has around 8000 Hectare land which can potentially be utilized for industrial development.
Follow and connect with us on Facebook, Twitter, LinkedIn, Elets video