Kerala, which has emerged as India's first complete Digital State, not only provides free healthcare services to its citizens, but is also poised to become country's first state to launch an ambitious e-Health project within a year. The programme would enable the government to go paperless and have digital health record of every individual, says Dr K Ellangovan, Secretary – Health & Family Welfare Department, Government of Kerala, in an interview with Vishwas Dass of Elets News Network (ENN)
Tell us about the healthcare landscape in Kerala and key policy measures undertaken by the Health & Family Welfare Department.
Kerala is one of the better performing states in the healthcare sector. Although our policies are like those of any other state in the country, what sets us apart is allocation of larger funds for social sectors-health sector, in particular-despite resource constraints. It has ensured high average density of primary healthcare centres (PHCs) and community health centres (CHCs) per square km. Similarly, the number of healthcare professionals, both public and private, is very high in Kerala. As a policy measure, we have tried to standardise vari- ous institutions.
One of the major policy initiatives is to operationalise universal health coverage in Kerala. It implies repositioning of vast network of PHCs and CHCs into centres of comprehensive care, as the assets are not utilised fully…we have a lot of institutions but the number of services are too small. PHCs should be able to handle non-communicable diseases effectively. Repositioning also means that the PHC units should be capable of dealing with diabetes, hypertension, psychiatric problems. We launched a pilot project in three PHCs and the results are very encouraging.
The second major policy decision is to reduce out-of-the-pocket expenditure. Over the years, the State Government has taken a conscious decision to supply generic medicines free of cost to every PHC in the State. Out of all the three-four states supplying free generic medicines, Kerala supplies the highest number of free drugs. Our aim is to ensure that the cost of medicines incurred by people for chronic diseases comes down.
The other reason for high medical costs is diagnostic centres. We are also trying to put up diagnostics centres in association with private players where poor people can avail CT scan, ECG, MRIs and other facilities at nominal fees. We have developed a project to reduce infant mortality rate (IMR). We are aiming for single-digit IMR. Similarly, for maternal deaths, the policy is to involve the private sector, so that we all are on the same page. IMR is surely going to come down once we implement the 13 guidelines prepared in association with the private sector. We have now released an antibiotic guidelines – a programme by various professional bodies, which will disseminate information among people.
What information technology-based measures have been undertaken to improve access to healthcare?
Access to healthcare essentially involves dissemination of information. We have to take information to people. People in Kerala are already quite aware about technology while the Government is also sensitising them. There are financial barriers too. A person goes to a hospital and comes out after spending a substantial amount of money, because services, like lab services, MRI and digital X-Ray, among others, are not available there. As I said, generic medicine supply and promotion of diagnostics or infrastructure in the hospitals is an attempt to remove those barriers, so that the person goes to hospital and avails services without incurring any major cost.
What kinds of healthcare schemes have been rolled out by the Government of Kerala for the poor?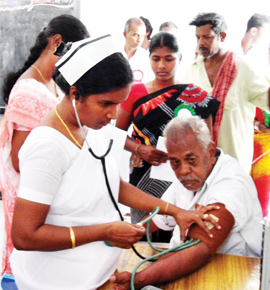 There are a plethora of schemes avail- able for sick people. We have got "Arogya Kiranam", which is a modified version of Rashtriya Bal Swasthya Karyakram (RBSK) that are given provides for treatment for 30 medical conditions, but the Kerala Government has extended it to all conditions. In other words, RBSK has been improvised to bring more diseases under its ambit, so that more people could benefit. We also run cancer care programmes. Kerala is one of the states where several departments chip in their money for social good; for example, the Finance Department and the Department of Lotteries run a programme called "Karunya Benevolent Fund" that gives a grant up to Rs. 2 lakh to people to avail medical services at empanelled hospitals. Similarly, the Department of Social Justice has rolled out a scheme called "Thalomam" for surgery of congenital diseases in children.
We are also in the process of launching e-Health project in association with the Government of India, under which we are trying to develop an elaborate and comprehensive e-platform where the health records of individual persons would be captured in electronic platform and used for providing population and hospital-based services. We have got 21 modules starting from PHCs to medical colleges and planning to launch primary healthcare model by February-end, and by January 2017, medical colleges will also be covered. It will be a paperless system to do a research-related work. We are confident that our e-Health project, first-of-its-kind project in India, will be implemented within a year.
The State Government has taken a conscious decision to supply generic medicines free of cost to every PHC in the State. Out of all the three-four states supplying free generic medicines, Kerala supplies the highest number of free drugs. Our aim is to lower medical costs
Can you please elaborate on achievements of Comprehensive Health Insurance Scheme (CHISS) and how it has benefited people?
It's the largest insurance scheme implemented by any state government. We have three layers – RBSY, CHISS and CHISS Plus. The Centre-approved RBSY is for the people below poverty line, while CHISS is meant for people meeting the criteria of the State Government. Earlier, a lot of people were deprived of availing free medical services, as they could not fulfil the criteria of the Union Government. So, the Kerala Government brought those people under its ambit to help them get affordable healthcare services. Currently, 30 lakh families are enjoying the benefits of CHISS scheme in Kerala.
Undoubtedly, the State Government has done a lot of work to bring the poor under the ambit of its healthcare-related schemes. CHISS Plus is a trust model for all above the poverty line (APL) category people. This health insurance scheme was launched by the government primarily to help families cope with the huge expenses that suddenly burden them when a major ailment, like a heart attack or cancer treatment, is required.
Follow and connect with us on Facebook, Twitter, LinkedIn, Elets video