Providing modular customised next generation video products, PeopleLink HD Video Conferencing Software and Solutions are transforming the traditional conference rooms, making it more interactive for the government, healthcare, education and SME sectors, writes Amit Chowdry, CEO, PeopleLink Unified Communications Pvt Ltd
Linking people from across the globe virtually, People- Link is enabling the Digital India and smart governance visions of the government by implementing video collaborations and integrate video networks.
"We are closely following the government policies and adding more features to our solutions, in line with the government focus of reaching out to the masses and getting them the benefits. Once we start getting feedback from various government departments, we would know what extra features are needed for their specific needs," Amit Chowdry, CEO, PeopleLink Unified Communications Pvt Ltd informed.
Connecting Rajasthan Virtually
PeopleLink is currently deploying video connectivity for the Government of Rajasthan with 18,000 port video collaboration platforms. The solution shall spread over 32 districts of Rajasthan covering the entire state to be virtually connected.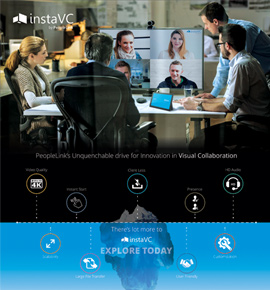 The five-year project aims at the criticality of adopting visual collaboration by the government for an efficient people reach out strategy and effective governance. These projects would help empower the people and get them closer to the government for efficacious grievance management, while the government uses the platform for making its departments more agile and connected for an inclusive growth of the state.
Managed Service Portfolio – Stronger Visual Strategy
PeopleLink has also initiated its Managed Service Portfolio, which addresses the need of ad-hoc video requirements of the users. Man- aged Service for visual collaboration has a potential of almost 52 per cent CAGR growth. Hence, it sets the company and its products and services on a fast pace growth platform. The managed service also opens up the possibility of having a multitenant deployment model, wherein the service providers can also offer the collaboration on their cloud under SaaS and PaaS services.
"Managed video services are seeing an upward trajectory, which is indeed an acknowledgement of video being accepted as a preferred medium for effective governance and mass collaboration. It presents a unique way to get a stronger visual strategy for the ATL/BTL marketing. The services are effectively being explored by many to enhance their marketing activities, like product launches, announcement of services and policies, conducting multi-city promotions etc," says Abhishek Pratap Singh, Head, Product Marketing & PeopleLink Managed Video Services.
Follow and connect with us on Facebook, Twitter, LinkedIn, Elets video