K Mohammed Y Safirulla, Director, Kerala State Information Technology Mission (KSITM), Department of Information Technology, highlights how the KSITM is accelerating the state through an array of innovative IT projects like BharatNet and Wi-Fi hotspots to ensure seamless connectivity, while speaking to Vishwas Dass of Elets News Network (ENN)
Kerala has recently emerged as India's most digital state with nearly 100 per cent mobile density, 75 per cent e-literacy, highest digital banking rate and broadband connection up to panchayat level. How will KSITM enhance it further?
Kerala started its e-Governance journey way back in 2002 with the pilot launch of e-Literacy programme through Kerala State IT Mission's (KSITM) flagship initiative of Akshaya. Today, Akshaya, with its 2,400 strong network, has evolved from a mere information dissemination centre into a one stop service delivery centre for citizens in Kerala. KSITM, being the nodal agency for implementing IT initiatives has been the torch bearer for majority of initiatives planned and implemented. It has implemented and is managing many of Kerala's nationally recognised initiatives such as State Data Centres (SDCs), Kerala SWAN, e-District, e-Procurement, mobile governance, e-Office and Aadhaar among others. These projects were conceived, implemented and are being monitored by IT Mission.
Usually, many of the e-Governance projects get scrapped due to lack of proper planning. However, I take pride in saying that almost all projects implemented in Kerala are still functional because of its necessity and additional scope or has been phased-out after achievement of their intended objectives. As an instance, we are making our SDC, with nearly 500 hosted services, cloud-enabled, KSWAN, and covered over 3000 offices, further extended to each and every office in the state. We have more in our pipeline like inclusion of more related functionalities in projects like e-District which has crossed more than 1.5 crores certificate issuance. Besides its own project implementation, IT Mission has also been instrumental in supporting individual departmental initiatives by providing both consultancy service in terms of requirement analysis, detailed project report (DPR) and request for proposal (RFP) preparations and implementation and monitoring services during project execution stage.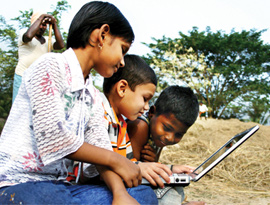 Unlike other states, Kerala's rural and urban literacy divide is minimal and hence focus would be on initiatives to enable IT and removal of digital divide between rural and urban populace, transforming God's Own Country into a digital state
Brief about the future projects of KSITM. How will these benefit citizens of Kerala?
We have many initiatives which are being planned for further strengthening our objective of taking government services to citizens' doorsteps and to improve governance. As you are aware, Kerala has one of the highest tele and mobile density and we're leveraging this penetration for the benefit of citizens. We are in the process of implementing a unified mobile governance platform which is intended to provide most of e-Governance services through mobile. Many initiatives have been implemented and few are in the pipeline where benefits are being transferred directly to the beneficiaries.
One initiative is BharatNet which would provide a complete optical fibre cable network (OFC) backbone to all government offices till grass root level and also provide a provision to common man for getting Internet over OFC. Another initiative which is intended towards benefiting common man is Wi-Fi hotspots where they'll have dedicated Wi-Fi zones across the state. This initiative will give a major boost to our tourism industry as it will benefit the foreign and domestic travellers. Apart from this, our focus also lies on capacity building initiatives through programmes like Digital Literacy, Electronics@School. Digital literacy initiative is to extend IT education to masses through school students by equipping them with Tabs. Besides, IT education which was made a part of the curriculum for children previously, we are in the process of introducing firmware/ electronics programming.
What kind of challenges are you facing to further strengthen ICT services in the state?
Challenges or risks come in various forms in IT projects and particularly in the government domain. Generally, we can categorise challenges into administrative and technical risks. During our initial days of e-Governance journey, resistance to change was one of the most feared and encountered risks. However, we have managed to minimise that risk through various capacity building programmes, support and handholding activities. Though these risks exist even now but people are aware of the associated benefits for effectively leveraging IT in governance. Another risk which we frequently encounter is change in leadership at operational or department level which destabilises the entire project's execution.
We're addressing this with the creation of virtual IT cadre, which is a pool of IT skilled government officials in each department who are involved in project's conceptualisation to completion stage. This ensures continuity in projects which is most essential and crucial for IT projects. Other challenges we face during implementation of e-Governance projects are mostly operational or technical in nature such as limitations due to geographical constraints, challenges due to rapid changes in technology, scope definition/ change, improper requirement analysis, interoperability, data sharing and cyber-security among others.
The next surge of IT initiatives would be BharatNet, Wi-Fi hotspots, Kiosk Banking, Digital Literacy, Capacity Building initiatives, revamped unified Citizen Call Centre, etc
What is your vision for the upcoming fiscal?
How exactly you are looking forward to improve and enhance citizen- centric services rendered by the KSITM? Current fiscal would see Kerala treading itself into a transformational society. As mentioned, we would be seeing the next surge of IT initiatives like BharatNet, Wi-Fi hotspots, Kiosk Banking, Digital Literacy, Capacity Building initiatives, revamped unified Citizen Call Centre etc. Another major focus on which government has already started working is interlinking most of the presently isolated services which would greatly enhance the governance. Taking a random example, a common man's certificate details available in one department would be shared and made available to all other departments so that the same details need not be submitted again and again at every department the respective citizen approaches for a service. Unlike other states, Kerala's rural and urban literacy divide is minimal and hence we would also be focused on initiatives enabling removal of digital divide between rural and urban populace thus transforming us into a digital state.
Follow and connect with us on Facebook, Twitter, LinkedIn, Elets video