The Kerala Cooperative Milk Marketing Federation or Milma, which has been contributing substantially to Kerala's economy, is enhancing its services through adoption of IT, informs Bhandari Swagat Ranveerchand, Managing Director, Milma, to Vishwas Dass of Elets News Network (ENN)
Brief us about Milma's initiatives in increasing its efficiency and milk production.
Milma is procuring almost 11 lakh litres of milk everyday and selling around 12 lakh litres per day. Procurement of milk has increased over the last two years though it has not reached the demand so that the rest is taken up from cooperative dairies of neighbouring Karnataka and Tamil Nadu. Milma, a National Dairy Development Board's (NDDB) initiative, is ensuring quality of milk consistently. Everything related to the federation is online to maintain transparency. We have made all the modules of Milma online ranging from procurement of milk, selling of milk, finance, cattle field, purchase and human resources department, among others. We are extensively exploiting technology like we are monitoring our Alleppey-based cattle field dairy on a real time basis. Our cattle field plants are in losses because it's a draught year and raw material are being brought from other states except coconut seed extraction. Therefore, prices of raw material is spiralling and we are trying to undertake IT initiatives to improve efficiency of cattle field plants to recover the losses.
What support is extended to people for setting up dairies?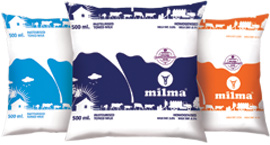 The government is helping people to start their business in this sector. Milma offers subsidies to the needy people for purchasing a cow, cattle shed and for those who want to open a society would be given subsidised land. We are trying to attract as many as people into the dairy sector to strengthen the Milma and expand range of products. We are returning 83 per cent of the profit to the farmers, which are one-of-the-best initiatives in the dairy sector. Milma's quality is the best among other brands. Even if you go to the collection centres, the milk is tested there. The fat and the SNF (solids not fat) which are two important parameters of milk quality that are being tested and based on that quality the money is given to the farmers. The growth rate of milk procurement showed steady progress. In 2014-15, the three regional unions collected an average quantity of 9.96 lakh litres of milk per day with 5.81 per cent increase compared to the last fiscal.
Can you tell us about your future projects?
We are planning to commission two dairies- Sreekandapuram and Malaiyur in near future. Plans are there to increase the capacity of Pattanakkad plant from 300 metric tonnes to 350 metric tonnes per day by June. We are trying to attract more dairy farmers as it gives stability and reliability compared to other sectors. We are returning maximum profits directly to the farmers in the form of cattle feed subsidy, insurance schemes and other benefits. Dairy sector is one of the most stable sectors currently in Kerala.
What challenges do you face from other states in making Milma one of the profitable institutions?
When it comes to dairy sector, Kerala is facing stiff competition from Karnataka and Tamil Nadu as they sell milk at cheaper prices compared to Kerala where labour charges are skyrocketing. We have to maintain high quality to prevent products coming from neighbouring states. But consumers have a confidence in Milma and we do not face any threat from the private dairies operating in Kerala. Cattle feed is the biggest challenge at present because we are incurring losses of Rs.12 crore in this fiscal due to skyrocketing price of raw material. I think maintaining price of milk is a challenge. Right from including Kerala in the second phase of Operation Flood in early 90's by NDDB and establishing Milma for its implementation, the government has achieved spectacular progress in milk procurement. Milma has become a household name in Kerala that guarantees welfare and financial security of dairy farmers by ensuring remunerative price for the milk and by implementing several welfare measures.
Follow and connect with us on Facebook, Twitter, LinkedIn, Elets video