Integrating Systems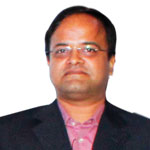 Cisco is not new to smart cities. Globally, we have been doing this for quite a long time. In India, we started with point solutions and we were active in most of the safe cities projects that we have done. We have kickstarted a project in Vijaywada, and we are already on a completion for a project in Jaipur where they are doing a complete smart city for 26 locations. When we travel across many cities of the country, we are actually surprised to see that a lot of smart and intelligent solutions are already in place.
However, the challenge is that these work in silos, these don't integrate or communicate with each other. The first step is that we need to design an architecture or framework for a smart city and then try to integrate those on a single platform, which not only helps optimising and delivering better services to the citizens but it also helps in bringing down the cost, which is one of the main crirteria of making smart cities successful. When we create the framework of a smart city, we call it a digital platform, where the entire city is connected. So, connecting the entire city on a network should be the first thing we must be doing.
We call it as the digital overlay of the city. So, there are two things which are important for a city: challenges and aspirations and based on that this architecture is created and based on that there is a city management that basically operates the entire stuff.
Follow and connect with us on Facebook, Twitter, LinkedIn, Elets video