Ever since the launch of Central Government's 'Digital India' programme, states are vying to showcase their digital initiatives, but with the launch of the largest eGovernance programme 'ePragati', the Andhra Pradesh Government has become the first State in the country to have Enterprise Architecture for providing integrated services to the citizens, writes Arpit Gupta of Elets News Network (ENN)
The Government of Andhra Pradesh, under the leadership of Chief Minister N Chandrababu Naidu, has set another benchmark by launching ePragati, an enterprise digital platform that aims to bring together 745 services offered by 33 departments and more than 315 government agencies in the State.
The objective of ePragati is using technology to transform governance. Chief Minister Naidu launched the novel initiative recently in Visakhapatnam to provide an integrated 'One Governance' system, which is citizen-centric, transparent and effective.
ePragati – previously known as the AP State Enterprise Architecture (APSEA) – is a comprehensive framework for implement- ing eGovernance holistically and provide integrated services to the citizens covering all departments of the government. Based on the Open Group Architecture Frame- work, it has been developed by IT giant Wipro Technologies at an estimated cost of `2,398 crore.
Speaking at the launch of ePragati, Naidu said, "ePragati is an action plan for IT revolution. The project is aimed to bring together 745 Government-to-Businesses, Government-to-Citizens, Government-to- Employees and Government-to-Government services offered by 33 departments and 315 government agencies. We will come up with an iconic IT building in Visakhapatnam like that of HITEC City in Hyderabad."
The project is envisaged to be imple- mented in three phases and set for comple- tion by December 2017. The first phase will comprise three packages, namely core gov- ernance, agriculture and education, and the services will be available by early November.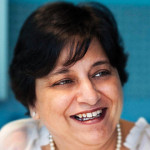 Neelam Dhawan, Managing Director, HP India
We are looking at developing an innovation hub in Andhra Pradesh in order to encourage entrepreneurship. We are all set to partner with the State Government and sign an MoU with the latter soon to offer services in health and education. HP India is planning to establish as many as four e-health centres and 10 mobile health centres to bring specialist doctors from urban areas to patients in rural areas. Cloud technology and Internet will be used by the computer manufacturer to connect patients with doctors.
The Chief Minister also released a detailed vision document of ePragati project during the launch ceremony.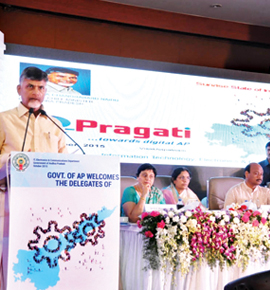 "ePragati will place Andhra Pradesh globally among the top governments implementing eGovernance. AP will set a role model for other states in the country's IT sector. The aim of the Government is to make at least one person e-literate (tech savvy) in each family," said IT Minister Palle Raghunatha Reddy.
"ePragati is a huge digital dream and digital roadmap for public sector transformation. It is a mega project for the eGovernance sector as the vision and size is so huge, including the budget. It is also like a lifecycle approach that accommodates life and each event in a human being's life, including birth, health, career, development, death, etc.," said Advisor to Government J Satyanarayana.
IT Minister Raghunatha Reddy, HRD Minister Ganta Srinivasa Rao, Panchayat Raj Minister Ch Ayyanna Patrudu, Chief Secretary IYR Krishna Rao, IT Advisor J Satyanarayana and NASSCOM President R Chandrashekhar were present on the occasion.
Besides, heads of multi-national com- panies from IT industry, such as Cisco President Dinesh Malkani, Oracle Managing Director Sailender Kumar, Wipro Chief Executive Officer Soumitro Ghosh, Cyinet Founder Chairman BVR Mohan Reddy and Tata Consultancy Services (TCS) Vice-Pres- ident V Rajanna, also attended the event.
ePragati is a comprehensive framework for implementing eGovernance holistically and provide integrated services to the citizens covering all departments of the government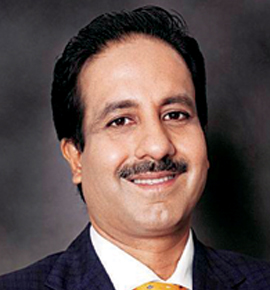 Dinesh Malkani, President, Cisco India
We are planning to set up a Centre of Excellence (CoE) over a stretch of 5 km to nurture and boost local talent. Tentatively, the Centre of Excellence is likely to be established in Vijayawada. It will help people innovate for IoT (Internet of Things).
We are committed to help Andhra Pradesh become a knowledge and technological hub of India and realise the vision of 'Sunrise Andhra Pradesh'. Cisco India would also connect about 5,000 students in the government schools with some of the best teachers worldwide.
Features of ePragati
It aims for a transformational change in the way government services are conceived, designed, delivered and consumed.
The public-private-partnership (PPP) has been designed as a tool to provide integrated services to its citizens by adopting a Whole-of-Government approach.
It seeks to enhance the quality of life by deploying the cutting-edge technologies, including SMAC, in various sectors like Agriculture, Education, Healthcare, Construction, Skill Development, and Urban and Rural Development.
It forms the basic IT Fabric that sup- ports the 7 Developmental Missions comprising the Sunrise AP.
It realises the goal of establishing One Government, by adopting the best prin- ciples of Enterprise.
Architecture, like establishing shared infrastructure and applications, enforcing technology standards, ensuring interoperability through the use of a SOA-based middleware called eHighway. It includes 72 projects, made into 14 packages for ease of implementation over the next three years, at a cost of 2,398 crore Rs.
Towards digitisation of governance
With the launch of ePragati project, several IT firms, including HP and Cisco, along with NASSCOM, have also unveiled their plans for the State.
Follow and connect with us on Facebook, Twitter, LinkedIn, Elets video