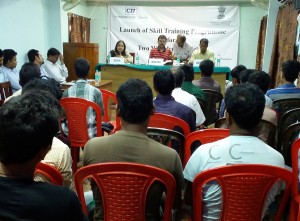 As part of its mission to financially empower weaker section of society, the State Sundarban Affairs Department, Government of West Bengal teamed up with CII to launch two-month special training in two-wheeler repair for 30 jobless youths from Kakdwip area.
"The skill training project aims to meet the state's stated policy and the target of providing top-class skills to young people belonging to the fringes of society. This explains why we are partnering with CII, which is the largest industry body in India. Moreover, CII has huge resources, expertise, network and outreach in the industry," said Manturam Pakhira, Minister-in-Charge, Department of Sundarban Affairs, Government of West Bengal.
"The project will involve classroom training – both theory and practical. Thanks to the project, these youth from Kakdwip in Sunderland will be earning a source of livelihood for themselves and their family," M V Rao, Principal Secretary, Department of Sundarban Affairs, Government West Bengal.
Saugat Mukherjee, Regional Director, CII Eastern Region said, "Skill development has been a major focus area of CII and we believe that growth has to be inclusive and sustainable. The confederation has taken up several initiatives in this area and this project is one such initiative in this regard."
He further stated that "in this project we will provide comprehensive support and ensure that the quality of training meets industry requirements. In future, we will roll out few more vocational training programmes in this area."