Setting the tone for a financial revolution in remote rural areas, Hyderabad-based VSoft Technologies has introduced Cloud-enabled financial services signalling a new era of speed, convenience and transparency in agricultural credit disbursal for millions of farmers in Odisha, says Murthy Veeraghanta, Chairman and CEO, VSoft Technologies, in an interview with Sudheer Goutham of Elets New Network (ENN)
Tell us about your banking technology infrastructure that takes banking services to the doorstep of farmers in remote villages.
Our new Cloud-enabled banking technology infrastructure has enabled the Odisha State Cooperative Bank (OSCB) and all its 17 District Central Cooperative Banks (DCCBs) to gain access to the National Payments Corporation of India (NPCI) National Finance Switch (NFS), providing lakhs of members of these banks access to over 1.88 lakh ATMs across the country.
This Cloud-enabled platform has made it possible for OSCB to be one of the first State Cooperative Banks in the country to issue RuPay-enabled Smart Cards to millions of farmers in Odisha. OSCB's technology transformation initiative is closely aligned with Odisha Government's roadmap to convert Kisan Credit Cards issued to farmers' families in the State as Smart Cards, so that farmers can withdraw their agricultural loans from ATM kiosk of any bank. VSoft's Kisan Loan System (KLS), one of its newest solutions for the endto-end agricultural loan processing, will enable farmers to repay their loans through designated POS terminals and receive a real-time receipt.
How does this technology stand out among the rest in the market?
The solution deployed on a 'Software as a Service' (SaaS) model with shared infrastructure has significantly brought down the total cost of the ownership for OSCB and its affiliates. IRIS CBS has reduced manual work and enhanced operational efficiency and made it possible for OSCB and its DCCBs to generate consolidated reports with ease and accuracy. IRIS CBS has all the features of Retail Banking operations, along with the unique modules of short-term loans and long-term loans, for on-lending to DCC banks, direct lending modules to State-level apex cooperative institutions, industrial finance etc. In addition to this, electronic transfers through RTGS/NEFT, CTS and DBT among others are also available.
VSoft has also implemented an ATM switching solution for OSCB, which provides access to the NFS network to OSCB and all its DCCBs. With VSoft's ATM Switch, OSCB/ DCCBs can accept transaction request from the connected front office devices (ATMs, micro ATMs and/or POSs) and that of the National Financial Switch. The ATM switch is connected to VSoft's IRIS CBS for application transaction approval and card status management.
VSoft's IRIS Kisan Loan System, an end-toend priority sector lending platform, will offer a compliant handshake between the 323 branches of DCC Banks and the frontline grassroots level service centres managed by over 2,709 Primary Agricultural Credit Societies (PACS).
Can you tell us about the 'One RuPay card to operate all accounts' feature?
In order to provide timely and adequate credit to farmers to meet their short, medium and longterm loan requirements, one of the fundamental simplifications is a capability to accurately and efficiently handle multiple concurrent loans, each having different duration, interest rates, repayment schedules, insurance premium and so on. VSoft's IRIS KLS achieves this by processing each loan as a line of credit and linking them with a single RuPay-enabled savings-cum-KCC account of a farmer.
How the operations for reaching such end-to-end banking services to remote villages are being handled?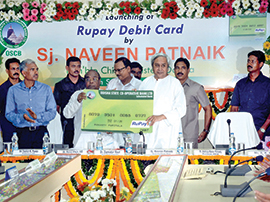 The core banking platform is centrally deployed at a dedicated data centre that brings down cost and improves efficiency and performance of the system. The entire cooperative institution in the state of Odisha, including OSCB's head office and its branches, DCCBs and the UCBs operate on a single core banking platform. The data centre where the CBS is hosted, is aligned with tier III data centre standards. The data centre infrastructure is vertically and horizontally scalable to keep up with the bank's growth and expansion.
The fully virtualised infrastructure at the data centre meets demanding and dynamic requirements of the bank with minimal deployment efforts. It has enabled synchronised applications, automated deployment of enhancements and a centralised support system. We have conducted training sessions in regional language for branch staff of all the SCB and DCCB branches (350+ branches) and interfaced the CBS with the State's centralised paddy and grain procurement system for automating payments to the respective paddy/grain sellers.
VSoft's IRIS Kisan Loan System, an end-to-end priority sector lending platform, will offer a compliant handshake between the 323 branches of DCC Banks (in Odisha) and the frontline grassroots level service centres managed by over 2,709 Primary Agricultural Credit Societies (PACS)
What were the challenges faced in rolling such innovative banking solutions?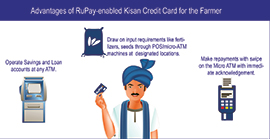 For VSoft's team, one of the biggest challenges in the initial stages of the project was data migration. Legacy data existed in multiple systems and in multiple formats. To overcome the challenge, our team developed a sophisticated ETL (Extract, Transform and Load) Framework that automated and thereby accelerated the process of migrating data from the legacy platform to VSoft's IRIS platform. Use of advanced logic and scripts in the ETL framework helped immensely in terms of speed, accuracy and completeness of the data migration activity.
Follow and connect with us on Facebook, Twitter, LinkedIn, Elets video