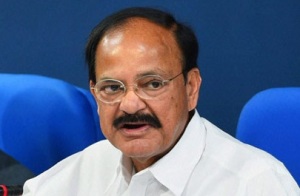 The smart services in the ambitious Smart City project of the Modi-led Government will come with a nominal user fee for the citizens.
Union Urban Development Minister M Venkaiah Naidu made it clear to the states and union territories that those wanted the 'Smart City' project rolling in their cities need to reform and perform for complete aid from the Central Government by collecting user charges from people for the smart services in their cities.
"If you want to remain like this, remain. It's your choice. Reform and perform and become a Smart City, the Centre is ready to do the hand holding," he said while addressing a regional workshop on smart cities in Hyderabad.
He stated that transforming cities into smart ones is difficult task, but not impossible.
It was the 2nd of the three scheduled workshop on 'Smart Cities' project by the Union Urban Development Ministry. Principal Secretaries of urban development ministry of 12 selected states and union territories, and municipal commissioners, deputy commissioners, mayors and deputy mayors from 40 cities selected for smart city development participated in the workshop.
The first workshop was held in New Delhi on September 3 and the 3rd workshop is scheduled in Kolkata on September 12.
The Union minister stated that many urban bodies had not raised taxes for years, though citizens were ready to pay more if they were provided better services.
"Cities would not be forced to collect user charges, but only those who want to reform and perform will get the help of Central government. The short listing of 100 cities for the ambitious project is only a prequalification process as only 20 of them will be selected for the next round. Those cities which do not perform will not be found in the next round," he said.
The estimated funding for a smart city is Rs 5,000 crore. Of the total, center would pay Rs 500 in a period of five years and a similar amount needs to be contributed by the State government. The rest of the amount will be sourced from the international banks, for which the centre would recommend.
He said International agencies such as World Banks and ADB would come forward to lend only if the urban bodies have the ability to pay back.
We are going to recommend for loan for those cities which are ready to reform and have creditworthiness.
The plans and features of smart city is what citizens want for themselves in their cities. The broad contours of a smart city as visualized by the centre includes essential core infrastructure, sanitation, health and education facilities, clean and sustainable environment, good public transport, city governance, adoption of smart technologies to ensure a decent living and catalyze economic growth, which is the need of the hour, he said.
He urged the mayors, municipal commissioners and corporators to raise to the occasion, as lot of responsibilities lies on them.
Follow and connect with us on Facebook, Twitter, LinkedIn, Elets video