The security and surveillance industry is set to benefit immensely from the Government's ambitious Smart Cities programme. Yogesh Dutta, Chief Operation Officer, CP PLUS, in conversation with Nirmal Anshu Ranjan of Elets News Network (ENN), talks about how they are going to combine quality and affordability

With rapid urbanisation, the threat perception in the cities has also gone up substantially. In this scenario, surveillance in cities becomes a huge factor. What is your take?
It's true that with the increase in population and rising diversity in demography, surveillance mechanisms in cities need to be tightened. Moreover, people feel that as taxpayers, they have a right to be secure. Even for a community/ city to prosper, proper security remains a precondition.
Besides, following various terror and disruptive activities taking place across the country in the recent times, there has been a substantial increase in the level of awareness among the people, leading to demand for putting in place proper security measures — be it a city, state or country.
What products and services does CP PLUS offer?
CP PLUS offers services to small home/office on a turnkey basis, to the aviation sector, to ports or for surveillance at public places. So, we have the largest range catering to different applications of products and solutions, in which we have got multiple categories of good cameras with different resolutions, to suit specific requirements. Also, we have devices, like recorders, as part of surveillance solutions.
Do you see a role for yourself in the recently initiated '100 Smart Cities' programme?
A Smart City is smart only if it's safe and secure. So, we are looking upon the government's programme as a huge opportunity for the security and surveillance devices industry. Cameras will have to be installed in every nook and corner of such cities, which throws up unprecedented business prospects for us. We are eagerly looking forward to it.
Who are your major clients that you cater to the most?
The major sectors that we cater to include Corporate and Retail, apart from the government sector. At present, we are trying to focus most on the Retail sector. In addition, we are pitching Communication sector, too.
How do you find CP PLUS placed in comparison to others in the surveillance solutions market?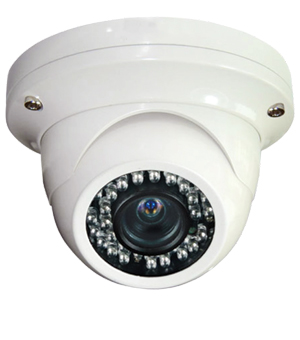 India is a market of the masses and we are focused towards it. If you are offering something to people at an affordable rate, people will lap it up. Be it any brand, people would look for good quality products at an affordable price…that's the consumer psyche, more so in India. People have grown up into smart buyers today. It's the optimisation of the value of money spent that people are most concerned about, and we are trying to offer quality at most reasonable prices.
Also, unlike in the past, even tier-II cities have grown security conscious: places like Bijnaur and Gajraula can also be seen having surveillance cameras at crucial points. Then, cameras are also being installed in parking lots and lifts for safety purposes.
What is the strategy for the growth of the company in the coming years?
The most important thing for the growth of an organisation is to align its products with the customers' requirements. So, we constantly look out for ways to improvise on the utility quotient of our products, to make the most of the available opportunities. We are trying to place ourselves in the market in a way so as to become a company with the most-sought-after products…a brand name that people would not look beyond.
Also Read: CP Plus:Adapting Evolving Technology to Ensure Complete Security
How would you differentiate between a high-definition camera and a commonly opted for one?
People generally have a perception that a highdefinition camera coming with a high price tag offers more security than a normal camera. But, we are here to break that myth: high-definition cameras can be affordable, too. We have some high-definition cameras starting with as low price as Rs 2,000. We would like not just to have customers, but also to make them informed customers.
Follow and connect with us on Facebook, Twitter, LinkedIn, Elets video