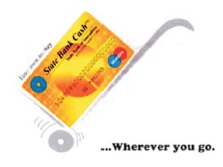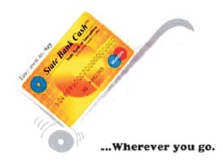 Aksh Optifibre Limited taking another step in the propagation of the national e-governance mission, has launched micro ATM services by the State Bank of India across all its e-governance kiosks across Rajasthan. The company operates these kiosks under its flagship brand 1 Stop Aksh which is playing a major role in the government's e-governance mission and the recently launched financial inclusion plan by the prime minister. The company operates a large number of kiosks across the state under the E-Mitra project of the Government of Rajasthan.
The SBI micro ATM facility will be available across the company's network of kiosk holders in the state who will facilitate an instant money withdrawal of upto Rs 1000 in a day. The first phase of the project will see upwards of 6000 Electronic Data Capture (EDC) machines being deployed for service with this number steadily increasing over the next couple of years. DoIT, Rajasthan which manages the E-Mitra program had earlier done a tie-up with the State Bank of India wherein all its outlets can be appointed as Customer Service Points to State Bank of India and carry out banking transactions on behalf of the bank. Some key services under the previous agreement include Deposit of Cash, Withdrawal of Cash and Money transfer to another SBI account holder in other locations.
"Aksh is one of the earliest entrants in the e-governance space in India and has been a continuous part of the growth story the space has been witnessing over the past couple of years. Developments on the technology front, as well as supportive government policies are aiding the growth of the project. Another major aspect of this growth story is the improvement of connectivity and data coverage across the rural regions of the country," said Chetan Choudhari, Managing Director, Aksh Optifibre Limited.