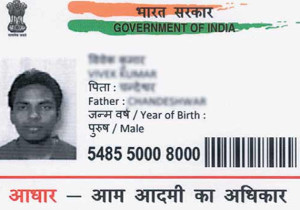 It's official now. Prime Minister Narendra Modi will carry forward the erstwhile UPA government's flagship Aadhaar project and the Direct Benefits Transfer (DBT) scheme.
Giving the Aadhaar programmes a new lease of life, Modi recently sought a 100-crore enrolment target at the "earliest". The current enrolment is at 70 crore, with 65 crore Aadhaar cards already issued. He is also reported to have asked the officials to look into the possibility of linking passports with its data.
PM Modi also pitched for all Aadhaar-based DBT schemes, including for LPG, which the previous government had scrapped, at a meeting with Home Minister Rajnath Singh, Finance Minister Arun Jaitley and Unique Identification Authority of India (UIDAI) Director General Vijay Madan on July 5.
While there have been talks of merging Aadhaar with the National Population Register, officials say that appears ruled out for now.
Government sources said the additional enrolment should be feasible given the "interest and push" the Modi government now seems to be displaying, along with its focus on monitoring and effective implementation. "Aadhaar enrolment and DBT rollout had all slowed down with the UPA regime having lost interest in the project. But the new Prime Minister has emphasised fast-tracking it. With close monitoring and support by the government, the targets should not be tough to achieve," a senior government official said.
Saturday's meeting also discussed linking the recently launched e-passport system with Aadhaar, using the biometric data collected under the latter, thus avoiding duplication of work. Sources say the issue of Aadhaar being applicable to all residents and not just nationals, a key concern expressed by the BJP in the past, did come up for discussion but given that the issue does not fall in the UIDAI's mandate, it is up to the Home Ministry to resolve it.
The DBT scheme, launched by the UPA with much fanfare, had taken a hit because of implementation gaps and poor monitoring. Modi has asked officials to implement the scheme in 300 districts on a priority basis where Aadhaar enrolment is over 80 per cent. Officials say this essentially leaves out districts in states like Uttar Pradesh and Bihar where enrolment is dismally low.
Follow and connect with us on Facebook, Twitter, LinkedIn, Elets video