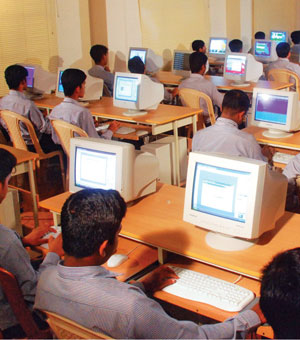 Maharashtra has always been at the forefront in e-governance adoption to facilitate anytime, anywhere access to citizen services, and to bring in efficiency, transparency and accountability in governance, writes Nirmal Anshu Ranjan of ENN

Having led the nation in social, political and economic arenas on numerous occasions, today the State of Maharashtra has also emerged as the frontrunner in the field of e-governance. Overcoming the barriers of time and its vast geographical expanse, it is turning out to be a model state in terms of e-delivery of citizen-centric services.
It was in September 2011 that Maharashtra became the first state in the country to formulate an e-Governance Policy to provide seamless guidance to the administrative machinery as a whole to prepare and take up meaningful e-governance initiatives for the welfare of its citizens. By April 2012, it was ready with the policy implementation plan, along with specified timelines.
An enabling policy
The e-Governance Policy laid the groundwork for development of an integrated environment for delivering various Government to Citizen (G2C), Government to Business (G2B), Government to Government (G2G) and Government to Employees (G2E) services in a smooth and cost effective manner.
And, there has been no looking back ever since. Be it an issue relating to civic services, land records, banking and finance, agriculture or government functioning in general, there is an e-solution just a click away. The IT and ICT tools are also giving a substantial push to education in Maharashtra.
The state has been proactively adopting technologies that facilitate transparency and accountability in the functioning of a government. The efforts have been focussed on synchronising technology initiatives with overall administration, so as to take the government to the citizens' doorsteps and usher in a digitally inclusive society.
"In view of increased mobile penetration in villages, in July this year, the Government has announced to provide various services to citizens through mobiles"
m-governance swing
In view of increased mobile penetration in villages, last month, the Maharashtra Government went a step ahead and announced to provide various services to citizens through mobiles. The Department of Information Technology has issued guidelines for mobile governance (mGovernance) for all departments.
As per the guidelines, existence of e-governance application is not a prerequisite for starting m-governance services. Departments can use SMSes to disseminate information related to Government Resolutions (GRs), circulars, office orders, etc. For deployment of mobile application for delivering citizen services, each department would make use of delivery channels like SMS gateways and unstructured supplementary service data (USSD) provided by the state IT department in association with Mahaonline Ltd.
Vision & Goals
Through its vision of "Transforming governance and enriching lives through the power of Information & Communication Technology", Maharashtra wants to:
• Substantially improve delivery of all government services and create e-Services without borders
• Enable Transparent, Open and Inclusive governance
• Develop cost-efficient and streamlined governance
• Enhance people participation in policy making
• Ensure continuous innovation and evolution

Technology tamed
The state government has, thus, been adopting e-governance and m-governance to reach out to citizens in a more effective manner and the age-old conventional functioning is being revamped through exhaustive business process re-engineering and electronic service delivery. The unproductive steps in the workflow are being done away with to ensure faster decision making and service delivery complimented by backend office and workflow automation.
Virtualisation and cloud computing play a critical role in enabling the Government of Maharashtra's vision for e-governance. The state is using UID for data de-duplication to root out the menace of bogus beneficiaries and include those who are left out, along with focusing on bank transfers, with an aim to make the money transfers to and from the government completely electronic.
Maharashtra is using e-governance effectively to deliver citizen services through e-Mojani, e-Chavadi, e-District and e-Registration along with creating a strong presence in e-Tendering and e-Office. It has not only built world class technological infrastructure but also has created internal capacities in its employees in order to sustain these efforts.
Projects of pride
•  Document Journey Management System (DJMS)
DJMS is used for tracking the files & documents movement within departments.
• Document Management System (DMS)
DMS relates to scanning and digitisation of scanned files in offices.
•  Biometric Attendance System (BAS)
BAS successfully implemented at various government offices, wherein fingerprints are used to verify a person's identity, record time-in and time-out.

•  GIS
A transformational programme to enable departments to implement GIS as a service.
•  Business Intelligence
A plan to ensure that all departments and organisations use Business Intelligence reports and dashboards to perform analysis to get meaningful and actionable information. SMS Gateway The state government uses the massive reach of mobile phones to enable easy and round-the-clock access to public services, especially in rural areas.
•  Payment Gateways
Payment gateways in operation for e-payment through credit card, net banking or debit card.
•  Land Records
Online availability of land records for their upkeep, and public reference and transaction.
Timely action
Over the years, the information revolution has created tremendous opportunities for government, businesses and citizens. It enables the government to provide better services to citizens and businesses, and meet the ever increasing demand for greater efficiency, effectiveness and accountability while reducing costs and risks.
Although e-governance is not a tool to improve the performance of the government sector overnight, it is a powerful enabling tool that has aided governments across the globe to achieve some of their development and administrative reforms goals. And, having taken the idea home in time, the Government of Maharashtra has emerged as a clear winner among the Indian states in harnessing the power and exploiting the potential of technology for the welfare of masses.
Follow and connect with us on Facebook, Twitter, LinkedIn, Elets video