Year of Inception: 1986
Managing Director/CEO: Brijesh Nigam
Head Office: F- 6, Sector-3, Noida – 201301, Uttar Pradesh.
Tel – (0120) 4037700- 99
Email – brijesh.nigam@iterate.in
Website- www.iterateonline.com
Contact person for Clarification: Brijesh Nigam,  brijesh.nigam@iterate.in
Product Categories
Enterprise IT Products – ERP, CRM & BI (Business Intelligence)
Enterprise Technologies & Solutions – Managed IT Services
Company Profile
Iterate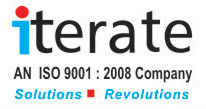 India Private Limited, IIPL, was founded in 1986. Prior to becoming a private limited company, Iterate was functioning under the name and style of Technocrats Business Data Center since 1982. It started with four persons and now has expanded into an organization of 125 plus members. Iterate started with doing IT jobs for Life Insurance Corporation, Nationalized Banks, State Level Universities of States and gradually entered automobile, higher education, hospitality and manufacturing sectors. It has developed numerous software in various segments and industries.
Iterate has the exposure on developing software from initial level languages and database like Basic, Dbase and Foxpro level to latest platforms on Oracle Forms, Microsoft Dot Net, C# and Android technologies reflecting the vast exposure IIPL has created for itself as well as keeping in line with the latest technologies.
Products and Services

All products delivered from Iterate carry an in depth study of business processes, knowledge on ground level working at client location and correct mapping of business process with perspective of IT working/ deliverables.
• CoReM – Customer Relation Management (CRM) System
• ClubM – Club Management System
• DMS – Dealer Management System (Automotive sector)
• FA – Financial Accounting Software
• IFC- Instant Feed Online Card
• SMS Engine
• SaSe – Sales and Service System (Heavy and Light industries)
• STAM – Student Management System
• Tally Interface Engine
• Unierp – University ERP
• VeTrac – Vehicle and Product Track
• WASI – Warehouse Stock & Inventory HHDC System
• Real Estate Management
• Compactor – Consolidation of Sites Data on Central Server
• Hospital Management
Target Verticals
Education, Automobiles, Hospitality & Real Estates
Achievements
• University ERP – IIPL has implemented an ERP software at a State level University which has more than 5,00,000 students, 400 colleges and 6000 on campus students enrolled with it. Working of the University w.r.t Examination, Central Evaluation, Accounts, Payroll& HR, College Affiliation, Academics, Stores departments have been automated through IIPL developed and implemented UNIERP software
• Workshop and Dealer Management Software systems – IIPL has implemented its developed Dealer Management Software (DMS) and Workshop Management Software (WMS) at more than 2000 automobile dealerships and workshops in India and Abroad.
• Ware House Management software – WMS has been developed and implemented at a very large warehouse in Nigeria. It has helped the company automate their entire procurement and removal functions along with bar coding of their entire inventory.
Follow and connect with us on Facebook, Twitter, LinkedIn, Elets video