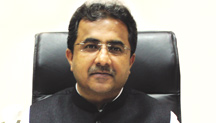 You wrote a dissertation "External Alienation and Internal Apathy – An Analysis of Bihar's Backwardness" in 1999. In your opinion how have things improved since the time when you wrote that book?
At that time, it was a united Bihar. Bihari pride was not present at that time. No one used to say that we belong to Bihar. People outside Bihar used to look down upon Bihar and Biharis. Now, there is a sense of pride. Bihar was mostly in news for all wrong reasons. Now, people have started taking positive view on Bihar.  There has been a significant turnaround in the state under the leadership of Chief Minister Nitish Kumar. This is a remarkable change. In 1999 or 2000 most people, including me, were not hopeful that things would change. And I never  thought that many of those people of Bihar, who had moved out of the state for better job opportunities, would start returning back to their homeland. Things are totally different now.
Once Bihar had been criticised by CAG for poor utilisation of MNREGA funds, but within a year you have won two national level awards for excellent work in MNREGA. How you have been able to improve the situation to such an extent?
One has to understand that MNREGA scheme was launched in 2006. This scheme has been open to criticism everywhere because it involves huge amount of money and your implementing agencies are gram panchayats, which are really large in numbers. In Bihar, there are more than 8,400 gram panchayats. Definitely it was a gargantuan task to manage this scheme. It was a problem and CAG had done a performance audit on request of Ministry of rural development, Government of India. They pointed out few things, which were not proper. But I have always admitted at every platform that MNREGA had problems of middlemen and corruption. It was a challenge. It was a big responsibility that I took up as it was entrusted to me by the Chief Minister. In my opinion two of the most basic mantras for successful implementation of government schemes is transparency and accountability. As far as possible, bring all the information in public domain. Make information accessible to people, increase people's participation and fix the responsibilities of the persons who are delivering the schemes. Since 2011-12, there have been a series of reforms from my department. It definitely takes time to come up with results. However, now I am very happy to see that things are changing. This Government of India also acknowledged our efforts by giving us an award for transparency and accountability in MNREGA work being done in Bihar. I think that with time all the problems that are associated with MNREGA will vanish.
You have also headed other departments in the past and presently taking care two very important ministries – Rural Development and Social Welfare. How challenging is to develop adequate infrastructure to attract industries for fulfilment of the goals of these two ministries?
Attracting investments for industries has become an important issue now. Till few years ago we were mainly focussed on ensuring that
there is improvement in law and order situation. To improve law and order we have ensured that about 83,000 miscreants have been convicted and sentenced by the courts. Road infrastructure is also a big issue. Thanks to the efforts of this government, we now have connectivity to most of the rural areas. It used to take 8-9 hours to reach Madhubani from Patna. But now you can go in the morning and return in the evening. The things have improved. Power is at the highest of priority at present. The situation in power sector is also improving. Power availability in rural areas has increased. We are quite positive that the development plans that the Government has made will ensure that Bihar becomes self sufficient in power during the next five years. We might even become an  exporter of power to other states in the country.
What sort of progress has been made in National Rural Livelihood Mission?
In 2007, the Government of Bihar had developed a programme concerning self help groups, and with the help of World Bank we initiated a programme called Jeevika. Initially, it was confined to six districts (about 44-45 blocks) and after Kosi flood, it was further extended to three more districts. Government to India also had a programme called Swarn Jayanti Swarojgar Yojana (SGSY), which was closed in January 2012. And they started a new scheme National Rural Livelihood Mission (NRLM), which was named as Aajeevika, which is similar to Jeevika started by Government of Bihar. I think in coming years, the rural economy could start revolving around these women SHGs. At present, they are handling more than Rs 200 crore  of credit. And we have more than one lakh selfhelp groups. Each group comprises of 10-12 women. By end of 2017, we plan to have about a million SHGs and we would be reaching to about 1.25 crores rural households. It's a big thing and you can see the changes particularly the villages and tolas, where these SHGs are functioning. The confidence with which they undertake various projects is commendable. I think the best way for women empowerment is their economic empowerment, which will be achieved through NRLM. We would be covering all 534 blocks of state under NRLM. And NRLM also has one important component of skill development. Bihar has a very young population and what we lack in our state is opportunities for our youngsters. So, government under Rural Development department has to target to train about 1.5 million youth by bringing them under skill development programme.  In this, we have indentified about 62 traits in which we would be giving them train ing. We would also be helping them in placement. And apart from this, Government of Bihar has set up a target to train about 1 crore young people in coming five years. We are also promoting self employment through the Rural Self Employment Training Institute (RSETI). In RSETI any person can get training from one week to six weeks duration by availing funding through banks. After successful completion of training, bank will provide them credit so that they can start their own work.
You promised to bring the error-free list of below-povertyline people in the state, but that there is still time in that
project getting completed. Have you been able to achieve substantially on that front?
Actually, there is lot of debate going on in the correct methodology to detect the population living below poverty line. Different committees, commissions have different interpretations. The Government of India goes by the Tendulkar Committee or Saxena Committee reports and at times we have different interpretations of poverty. The Government of India has recognised that population below poverty line population in Bihar is of around 65 to 70 lakhs. But we believe that the figure is much higher. So under the instruction of Government of India, we conducted a new survey by the name of Socio-Economic Caste Census (SECC), once the new list comes out, the older BPL list will become obsolete. The Food Security Programme will be based on the new BPL list.
"We are also Promoting Self Employment through the Rural Self Employment Training Institute (RSETI)"
The common man is mostly unable to benefit from welfare schemes as there are to many procedural delays and even corruption. How can technology be used to resolve such matters and ensure that the benefits reach the common man?
Earlier the Government of Bihar was unable to take adequate funds from Government of India. But now the situation has changed. We are demanding fund, but they are not able to give it. My department handles Indra Awas and MNREGA, for these two schemes, I have been writing to the Minister, Government of India, for release of more funds. But they are not able to release it on time. So this goes to prove that now Bihar is not only utilising the funds allocated to the state, it is even asking for second instalments. There is timely utilisation of the funds that are meant for common citizens. For instance, there is the scheme called Mukhya Mantrin Balika Cycle Yojana – this is one of the first schemes of this kind to be launched in the country. In this case the direct transfer of benefits was done to the beneficiaries.
Your personal initiatives during the Kosi Flood catastrophe were appreciated. What lessons has the State learnt about using technology to save lives in such a situation?
Till date, I think it was one of the biggest rescue operations – more than a million people were rescued from the villages and moved to secure locations. The flood management information system, which gives alert and tracks the flow of the river, played a seminal role in helping us in managing the aftermath of the flood. There is immense scope for using new technologies for water management, disaster management and helping the people.
In the ministry are you using any technology to enhance the quality of administration for monitoring the schemes?
I can proudly say that Rural Development department is using technology much more than any other department in the government. Every minute detail of MNREGA is on the website. The information regarding job card number, payment or scheme detail, everything
is online. We have been You Tube for exposing corruption. Every bit of data is recorded using laptop and transmitted to secure servers. Our programme officers in Block levels have Internet connectivity. I do video conferencing with Block Development Officers. Not only that, entire information of our department is on the website, you don't need to file an RTI for getting any information from us. I have developed online software for my own department to help us keep track the applications from common citizens. There are people who come to meet me. I can track their application and give unique ID to it. Then, whatever instructions I give is sent to the applicant through an automatic SMS. If people ask me about the status of an application, I am able to tell them. Through IWDMS, I am able to tell them the entire file movement. I am able to see which officer is keeping the file for how many days.
How challenging was overhauling of sick sugar factories when you were Minister for Department of Sugarcane Development?
For the first time I have taken charge of office in capacity of a Minister in 2005. During that time we conceptualised and framed the Sugar Industry incentive policy for establishment of new sugar complex and capacity expansion of existing units. We took initiatives for clearing the arrear payment of sugarcane farmers of the Bihar State Sugar Corporation pending since 1997. Also, the Research and Development facility at Sugarcane Research Institute Pusa was strengthened. As a result of such initiatives, Proposals worth `20,000
cr. was received by the department for establishment of New Sugar complexes within two years after the announcement of the incentive policy. Capacity of existing sugar mills was also expanded.
We had closed sick sugar factories. I initiated the process of privatisation and we privatised two units successfully. One was in Sugholi and one in Lodia, they were successfully transferred to HPCL. Some other units were also taken by other companies. Entire system to privatise the sick government sugar factories was done way back in 2006-07. It was a big challenge.