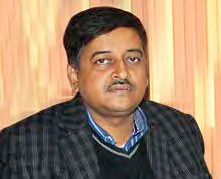 Monitoring is a challenge for most organisations, especially when the projects that are supposed to be monitored are located at remote locations
Sanjiwan Sinha, Managing Director, Bihar State Educational Infrastructure Development Corporation Ltd (BSEIDC)
In Bihar State Educational Infrastructure Development Corporation (BSEIDC) there are two major areas of operations where existence of remote locations and the need for concurrent monitoring have been felt. The corporation is entrusted with construction of Physical Infrastructure in Educational institutions in Government of Bihar. There are schemes for Model School Building Constructions, Girls Hostel Building Construction, Higher Secondary School Building Construction, etc.
The number of sites spread all over Bihar number more than 1500. The Corporation has gone for a mix of centralised and decentralised models. Planning, Tendering and Payment have been centralised at headquarters. The physical execution supervision has been decentralised. There are one Executive Engineer, 2-4 Assistant Engineers, 15-20 Junior Engineers in each of the nine Divisions of Bihar. To ensure an effective supervision system in civil works, a mobile based monitoring system has been implemented.
Monitoring System
All the site-wise details with landmark of physical progress is uploaded over the software which is available on the cloud. Executive Engineers have been provided with User ID and Password through which they update the site-wise physical progress on every Monday. Same progress is there for the Work-wise Measurement Book movement from Consultant to Division and to Accounts section which is again updated by the Executive Engineer concerned. Further GEO stamped and Date with time stamped photograph is uploaded against each site by the Executive Engineer, Assistant Engineer and Junior Engineer concerned whenever they visit the site.
Based on above updating by the field engineers, various managerial reports have been incorporated in the software. This in turn resulted in nearly real-time reports available at headquarter for better monitoring GEO stamping ensured authenticity of the photograph. Again, plotting the photograph in the reports with GEO stamping data and date and time data produced in effect tracking of the movement of the field engineers.
Paperless work
Again, the corporation field officers (in 9 Divisions) started to work only on the Laptops and Mobiles. There was no use of Paper. This helped organization in going for ISO 14001:2004certification.
Another attempt towards Concurrent Monitoring using ICT was made in the field of ICT@School scheme which is a BOOT Model Scheme for computer education / computer assisted education in schools. One inherent problem of this scheme was to ensure running of computer because under the BOOT model running of computers including source of energy (Genset's diesel) was to be provided by the BOOT operator.
To address this issue School Computer Access Network (SCAN) software was got developed. In this software, Processor Id linked system of sending email on daily basis from the school location was introduced. This ensured that the email is sent from the designated Computer.
The program checked the authenticity of the source. Further self generated SMS was attached to be sent to the concerned Principals, BOOT operators and officials to report about the email sent from different computer or non-sending of emails (not reported working). Through MIS one is able to see school wise computer running status.
The SCAN software brought a major change in the way monitoring was happening. Monitoring became concurrent in real sense. There was the issue of connectivity. But this software motivated the BOOT operators to address the problems of connectivity in an effective manner. Sitting in headquarters one was able to see the status of computer use in remotely located schools. The corrective measures were more timely and more effective.
Experience with these two IT enabled monitoring systems was such that it changed the organizational thinking and culture substantially. The Mobile based monitoring system for civil constructions became part and parcel of the organization. Likewise SCAN transformed the way everyone was looking upon the ICT@ School scheme. Today both these concurrent monitoring tools are integral part of the working of BSEIDC.
Follow and connect with us on Facebook, Twitter, LinkedIn, Elets video