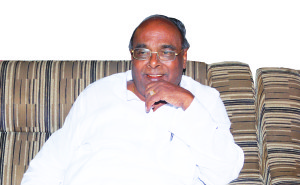 Dr Damodar Rout,  Minister for Health & Family Welfare and MSME Government of Odisha

"MSME in Odisha will do much better because of the presence of large industries," says Dr Damodar Rout. In conversation with Mohd Ujaley
Government of Odisha is focusing on the development of Micro Small and Medium Enterprises (MSME) sector in the state. How do you look at MSME sector in your state?
In eastern India, Odisha has got huge potential for development of MSME. We have created MSME development policy 2009 and now have started working accordingly. Recently, we organised an MSME exhibition, in which about nine foreign companies participated. We are also focusing on developing an efficient programme for entrepreneur sensitisation to train our youth. There is an excitement among youth to become entrepreneur, we have covered 314 blocks under various entrepreneur sensitisation programme. I think MSME sector in Odisha can do much better compared to any other place in the country due to availability of mega-industries. The mega industries, which currently may be are getting their needs from outside, can resource their needs from local MSMEs. The government is also proposing to set-up an MSME university in the state. We have given enough importance to MSME in our state and I think within two years there will be significant progress.
In your interview to eHealth magazine earlier, you said that infrastructure deficiency is key challenge for Odisha. How things have improved over the years?
It is true that infrastructure deficiency is key challenge for the state. We have been trying hard. We have received some funds under Urban Health Mission and we shall use it in the best possible way to address some of the challenges. I have also taken up the issue with the Chief Minister and Finance Department; they have agreed to provide 2400 crores in coming three years at the rate of 800 crore per year to improve the healthcare infrastructure in the state. I think it will be really helpful for developing the infrastructure in the healthcare centres in the state.
Odisha has one of the largest tribal populations. What steps are you taking to improve healthcare service in tribal areas?
I cannot claim that healthcare has completely improved but we are doing our best. It's a huge challenge because 22 percent newly born babies in tribal areas are seriously underweight and those who are dying within stipulated time are adding to the infant mortality rate. Those who are surviving are not healthy citizens. So we have taken some special steps in women healthcare. About 53 percent women are suffering from anaemia, unless we arrest that anaemic condition, the problem with newly born babies being sickly will remain. The first step that we need to take is care of mother, then the child. On our request government of India has set-up a tribal disease research centre and we are proposing three more such centres.
Very recently Kiran Mazumdar Shaw met the Chief Minister and proposed to set-up telemedicine centre in the state. How do you look at such initiatives?
We are introducing telemedicine at some of our medical centres. Mrs. Kiran Mazumdar Shaw wants to spread the eHealth system and also install telemedicine centres to cover all the revenue villages, say about 51000 villages. She wants to ensure that telemedicine facility is available in all the villages. It may not be possible at this moment, but we are trying to develop infrastructure at the fastest possible pace. We are trying to have the facility at all our primary health centres, community health centres, sub-divisional medical health centres, and all the medical colleges. We have assured Mrs Shaw to make an exercise on this score. Recently, we have established Biju Patnaik Memorial Hospital with the help of private participant. We will also try to develop telemedicine facility for dangerous diseases like cancer, diabetes, hypertension, etc. The telemedicine centres can provide immediate diagnosis take and can also provide tele-consultation.
There are only two government medical college in the state. Is there any plan to open more medical college to bridge the gap between demand and availability of the doctors?
We have huge shortage of doctors; the last government medical college was opened four decades back. I agree, state needs more doctors and more medical colleges, now we are encouraging private medical colleges, so far eight medical have come up. And, also 100 students have been admitted at AIIMS, Bhubaneswar and at a private medical college and in one medical college we have enhance the seat to 100. Government of India has decided to set-up 65 new medical colleges in the country. We have approached them to establish four medical colleges in our state as well. Government of India has agreed it in principle. Based on the centre-state partnership, we have proposed one medical college each at Balasore, Baripada, Balangir and Kodapur.
Follow and connect with us on Facebook, Twitter, LinkedIn, Elets video