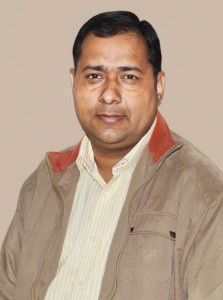 Nagendra Singhal,
Head – State e-Governance Mission Team (SeMT),
Government of Uttar Pradesh
Efficient mechanism of service delivery to the citizens from various Government departments is important for sustained economic development. The emergence of the Information Technology has affected both the role and functions of the Government. While undertaking traditional functions, Government is now also expected to launch initiatives for harnessing the power of Information Technology and driving the change towards better quality of life. Information Technology has been instrumental in changing the way in which the Government operates for ensuring efficient service delivery to the citizens. Mammoth efforts have been made for the complete development of the State by extensive use of IT within the process of Governance for providing better citizen services and for enhancing efficiency, transparency and accountability of Government departments with the vision of "Make all Government services accessible to the common man in his locality, through common service delivery outlets and ensure efficiency, transparency and reliability of such services at affordable costs to realise the basic needs of the common man".
Today Uttar Prades h is being looked as the Model State where many effective e-Governance initiatives have been launched
Rise of Information Technology in Uttar Pradesh

Initiatives from Department of IT & Electronics
The Department of Information Technology and Electronics, Government of Uttar Pradesh, is the nodal department for the development of IT as well as the implementation of various e-Governance projects in the State. It is the responsibility of the department to enable electronic delivery of key Government services to the citizens in an efficient, effective, transparent and hassle-free manner. This entails backend automation of departments for digitisation of their records, provision of internet connectivity, creation of IT Infrastructure, etc. Thanks to the initiatives of the Department of Information Technology and Electronics, today Uttar Pradesh is being looked as the state where many effective e-Governance initiatives have been launched.
Role of State e-Governance Mission Team, Uttar Pradesh 
For providing technical support to the policy and decision-making process and ensuring effectiveness in the overall  anagement of e-Governance implementations, the State  e-Governance Mission Team (SeMT) has been formed in the State. There are ten professionals deployed in SeMT from domains such as Finance, Change, Program and  Technology Management. This team is providing it's expertise in the area of Business Process Reengineering (BPR), DPR Preparation,  Bid Process Management for various e-Governance Projects such as State Wide Area Network, State Data Centre, CSC, e-District, CCTNS etc.
Ensuring Standardisation, Interoperability, sharing & Linkage with other e-Governance Initiatives
With the objective of driving systematic and organised implementation of e-Governance, SeMT is aiming at guiding State departments towards successful implementation of e-Governance initiatives after ensuring standardization and interoperability. SeMT has advised State to consider the option of developing dedicated e-Governance Policy in order to drive  the e-Governance efforts in the State more aggressively. It will ensure standardized and seamless implementation of e-governance projects across State, thereby encouraging interoperability, data collaboration, sharing and linkage with other e-Governance initiative. It shall also lead to standardization of processes and standards. It will advise Departments for usage of Infrastructure created under NeGP at State Level instead of creating their Own Infrastructure. For example, using State Data Centre instead of every department establishing its own data centres.
Capacity Building
The changes proposed for implementing e-Governance are likely to be met with a lot of inertia which can't be overcome by  lower and middle level officials working half heartedly to diffuse the technology. The top level officials have to come in and devise strategies for beating the inertia that plagues many departments. SeMT Team is aggressively working on various capacity building activities such as training,  awareness, sensitisation programmes. In the Year 2012-13, Various training/sensitisation programmes were conducted at the Commissionery and District Level for DMs, ADMs, SDMs, Tehsildars, Lekhpals, BDOs etc. and More than 22000 Government Employees were benefitted from this activity. Apart from this, SeMT in collaboration with NISG conducts STeP training to develop human capacities by imparting training to Senior Officers from State Government. This training aims to familiarize Government Employees with Policy/Regulatory frameworks, RFP Preparation, Government Process Reengineering, Information Security Management in e-Governance project and so on.
Business Process Reengineering (BPR)
SeMT is primarily focusing on intensive re-engineering of citizen centric services,  redefining the role and functioning of the Departments of State Government. Team is currently working on overhauling the  Processes of the Services identified under e-District Project. This exercise is mainly carried out to remove redundancies, optimize resources and rationalization of rules and procedures to bring transparency in working  and to enhance efficiency and productivity. This ultimately brings down the time and cost for process deployment. Through this, Government can also make extensive reuse of processes, patterns, components and  design. SeMT is providing it's expertise to various Departments under State Government  and PSUs on BPR.
Creating new Infrastructure
A large number of e-Governance projects are being conceptualised, designed and developed, implemented and maintained in the State. 885 points of presence have been established to provide internet connectivity up to block level. Now State is planning to upgrade the current bandwidth being provided. State Data Centre (SDC) has been established to work as central reservoir and shared infrastructure for appli-cation, services and data from various State Government Departments. For Cloud Enablement of SDC, RFP has been published. 17909 Common Service Centre (CSC) are being established to work as the front end service delivery points for the Government, Business and Social Services to the rural citizens. Apart from this, State Portal has been launched for achieving interoperability between various e-Governance applications implemented at various levels and geographically dispersed locations. Currently 26 Government Services including Income Certificate, Domicile Certificate, Caste Certificate, Khatauni, etc., are being delivered by using State Portal through CSCs. It has facilitated the citizens by offering better delivery of services in time bound manner and greater convenience. Popularity of this system is proved by the fact that more than 1 crore applications have been received using State Portal since 01st Aug 2012. e-District Project has already been successfully rolled out in 6 districts, and it is now being rolled out in rest of the 69 Districts. District e-Governance Societies have been established in all the Districts to assist the Implementation Agency in implementation of the Project. This Project aims to deliver high volume citizen centric services through front end delivery channels. Many other Projects are being implemented in the State to reduce digital divide and strengthening Service Delivery in the Government.
Follow and connect with us on Facebook, Twitter, LinkedIn, Elets video