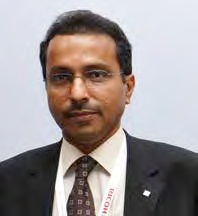 A T Rajan,
Chief Marketing Officer & Head of Corporate Strategy Office Ricoh India Ltd
What are the main areas of business for Ricoh in India?
Please give us an overview of your operations in the country. Ricoh India is a subsidiary of Ricoh Company Ltd, Japan, a global technology company and a leading player in the areas of Printing & Document Management, Image Communication Systems and IT Services. In India, we operate through a nation-wide network of 16 branches and 5 area offices. In addition to our direct sales and support team, we also an extensive network of over 2000 partners across India We provide of a complete range of solutions for office printing and document management, in single function or multi-function, in B&W and color, to take care of any office requirement.
Out of your overall revenue in India, how much comes from the Government business?
Government is a very important customer segment for Ricoh India, and currently we have almost 50 percent of our revenues coming from Government business. During the last 2-3 years, the proportion of our business from Government has steadily increased from around 40 percent to 50 percent, so our growth in this segment has been very good.
In a world that is moving towards a paperless environment, how do you see the future of printing and documentation industry?
Although, in the near term, the total print volumes will continue to grow in absolute terms, I feel that the quantity of scan volumes as a percentage of total document volume is expected to increase rapidly. Our range of Printers and MFPs are complemented by a wide range of document management solutions for document storage, retrieval and management. We encourage our customers to reduce their prints and increase their scans – in most of our MFPs, we provide basic document management solutions free of cost, bundled with the machine. In order to further drive the 'document-less communication' in today's offices, we are now expanding to other image communication products like Projection systems and Interactive White Boards. As you may know, Ricoh is renowned globally for our commitment to environment.
Follow and connect with us on Facebook, Twitter, LinkedIn, Elets video