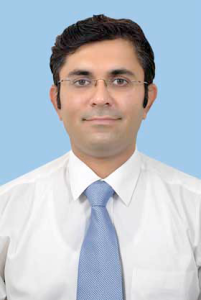 Mohit Puri
Country Manager
WatchGuard India & SAARC

"We have done extremely well in government sector during the last few years," says Mohit Puri. In conversation with Ankush Kumar
You joined WatchGuard in 2006.Tell us about your journey so far with the company.
In 2006, when I joined WatchGuard, I was a sales engineer. Basically, I was a technology person at that point of time and at heart I still am close to technology. Since 2008, I started looking after the Northern region, and by the end of the same year, I was looking after the entire enterprise business. Then in 2009 end, when my predecessor left, I took over as country head. I have been managing India & SAARC for four years now. I am proud to say that during the last few years we have grown exponentially at over 25 percent. This year is also quite exciting as first half is already gone and we have grown at over 30 percent. The journey has been really smooth, as well as challenging in terms of competition and market share that we have acquired. We have been acquiring new clients and growing simultaneously.
Provide us with an overview of the products & solutions that you have been offering in India.
In India, we are developing product lines that we sell worldwide. Our flagship product is UTM (Unified Threat Management); we also call it XTM (Xtensible Threat Management). More than 90 percent of our business comes from XTM and UTM solutions. We have been in the Gartner's Magic Quadrant for past four years along with few other brands. We have done extremely well in UTM market in the last few years. In 2010, we acquired a company called Borderware, which has an email security solution. We re-branded the solution and called it XCS. This solution is quite popular and it has anti-spam and ant-web filtering mechanism in it. Then we have DLP (Data Leakage Protection) and email encryption. We have customised solutions for different verticals like Retail & Hospitality, Education, Energy, Healthcare, Finance, etc.
What is your key focus area in India? What percentage of your revenue comes from Government Business?
From the past few years we have been concentrating on the Government vertical. The other focus areas for us are Banking, Finance & Insurance and Education. We have been growing at a very healthy rate during the last few years. About 30 percent of our business came from Government sector. By any criteria, you can see for yourself that we have achieved lot of success in India. We are currently catering to some of the leading Public Sector Enterprises. We are playing a significant role in the power sector.
What kind of growth are you seeing in your government sector business? Please tell us about some of the landmark projects that you are doing for the government.
Our focus will stay in the government sector. We believe in this sector and will continue to move strategically in this sector. Currently we are aiming to have 50 percent of our revenues from the government sector. Despite the slow condition that we are witnessing in the broader market, I believe that the business that we get from the government will continue to grow.
What is your view of the cyber security situation in India?
Cyber security is a matter of great concern for the Indian government. The government has already come up with a range of initiatives for safeguarding public data and keeping tab on organizations that are engaged in committing cyber crimes. Stringent initiatives are needed to curb cyber crime, as there exists the risk of losing intellectual property. WatchGuard has developed cutting edge solutions that can protect critical government data. We have joined hands with many other reputed vendors to provide a holistic solution to our clients
Follow and connect with us on Facebook, Twitter, LinkedIn, Elets video