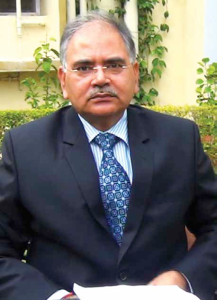 Bibhas Kumar Srivastav
Executive Director, Corporation Bank
---
"The poor and the unbanked have to be brought into the financial mainstream of our country.They must be allowed to contribute to the nation's economy in a more significant manner," says Bibhas Kumar Srivastav. In conversation with Mohd Ujaley
---
A recent report from RBI shows that majority of the people in the country are still unbanked. In such a situation how effective can the financial inclusion initiatives of the Indian banks be? If people don't have bank accounts, they can't benefit from these initiatives.
The banks are now taking steps to open the accounts of largest number of people. The Corporation Bank is operating large number of branchless banking units. Currently the total number of branchless banking units stands at 3000. We need to strengthen these units with the support from technology. The ultimate aim is to enable people to avail of banking services at their doorstep. Why should any farmer or a villager travel 30-40 kms for banking service, he should have access to banking facilities at his doorstep or close to his home. Corporation Bank has now developed a strong focus on the rural and unbanked areas. We are doing our best to strengthen our business correspondent establishments through proper technology implementations. Wherever required, ATMs are also being erected.
The Direct Benefits Transfer scheme is today being lauded as a major e-Governance initiative that will bring transparency and efficiency in the way government benefits are sent to the beneficiaries. Do you think that DBT will also lead to more financial inclusion?
There is no question that it will be a greatachievement if we can have a system that allows benefits to flow directly into the bank accounts of the people. However, financial inclusion is something different and DBT is something different. Financial inclusion refers to an overall banking strategy, and DBT is a part of financial inclusion. It is not DBT that will lead to financial inclusion; it is financial inclusion that will lead to DBT. We need to implement financial inclusion in totality, only then we can have the full rollout of Direct Benefits Transfer.
---
Corporation Bank Taking new steps in financial inclusion
For expanding the coverage under Financial Inclusion, a pilot project on smart card based business transactions through Business Correspondents (BC) model has been launched through five identified branches. Bank has constituted a Grievance Redressal Machinery for redressing complaints if any, about services rendered by Business Correspondents. For this purpose, a Grievance Redressal Officer in each Zone has been nominated by the Bank.The Grievance Redressal Officer shall ensure that the grievances received from the clients / members of the public are satisfactorily responded to promptly, but in any case within 60 days from the date of lodging of the complaint by the complainant, failing which the complainant may have the option to approach the Office of the Banking Ombudsman concerned for Redressal of his grievance/s
---
It is obvious that despite all the growth that India's banking sector has seen, there is lot of work that needs to be done for bringing modern banking closer to the people in rural and far-flung areas. You have done lot of work in Bundelkhand and Uttaranchal regions. Tell us about it.
In Bundelkhand, the main problem is of land and water management. This is not that difficult a problem to resolve, if you can get people to cooperate. There exist many simple solutions that you can put to use. For instance, you can plant trees, erect bandhs and do much else to control and conserve the water. We did take that kind of initiatives and there has been certain amount of improvement. We have also promoted plantation of trees like Guava, Mango and Jamun. Dairy farming is also very important in these areas. We have been promoting this industry. Micro finance is slowly gaining momentum, banks are lending to small industries, and even micro enterprises.
India is a large and diverse country. At times we have a situation where local dialects change every ten kilometres, and even the taste of water changes every 15 kilometres. What is the scope of using ICT in bridging the divide due to geography, language, etc?
The truth is that Information Technology is everyone's property. It's not the property of some of the institutions. Today even a rickshaw puller can operate a smartphone, even though he may not be able to afford it. People in this country have come closer to IT. We have become a big consumer of electronics and Information Technology. We, the educated class, like to think that people dwelling in the rural areas are averse to new technologies, but that is simply not the case. Take the example of the wheat that was introduced in 1960s. No one had to go to the farmers to say that they have to use these seeds; the farmers adopted the seeds by themselves. My feeling is that people are able to understand the usefulness of any new technology by instinct. Once you have created something that is useful, people will emphasise with it and pick it up. To answer your question, ICT can bridge the divide, it is already doing so. The mobile technology is playing an effective role in bringing people together.
---
"every villager should have access to banking facilities at his doorstep or close to his home"
---
Corporation Bank
Empowering the nation with effective banking

Started about 108 years ago in 1906, with an initial capital of just `5000, Corporation Bank has recorded `2,84,722 Crore mark in business and even far more, with over 6677 service outlets across the nation, served by committed and dedicated 13,000 plus Corp Bankers. Proof of which is seen in its enviable track record in financial performance. The bank has many reasons to cheer, predominant of them is, being able to participate in nation building by empowering the rural and urban population alike. Nationalised in 1980, Corporation Bank was the forerunner when it came to evolving and adapting to the financial sector reforms. In 1997, it became the Second Public Sector Bank in the country to enter capital market, the IPO of which was over- subscribed by 13 times. the Bank has many " firsts " to its credit – Cash Management Services, Gold Banking, m-Commerce, " Online " approvals for Educational loans, 100 percent CBS Compliance and more recently, its poineering efforts to take the technology to the rural masses in remotest villages through low-cost branchless banking – Business Corresponent model.
The bank has to spend a certain amount of money to manage every bank account, so if you have zero balance bank accounts, how will the bank make any profit?
What comes first – the egg or the hen! This can be an endless discussion. And it can also be an endless discussion – what will come first the investments for opening new accounts or the profits! The point is that until we help people by opening zero balance bank accounts for them, they won't be able to prosper. And if they don't prosper, they will not put any money with us. It is only when people become rich, that the bank can make money. So it is in the bank's interest to enable people to become rich. That is the objective of financial inclusion, it is a strategy to enable people to save money and over a period of time attain financial stability. I always say that we have to bank with poor people, who have a lot of business opportunities to offer. The poor and the unbanked have to be brought into the financial mainstream of our country. They must be allowed to contribute to the nation's economy in a more significant manner.

Follow and connect with us on Facebook, Twitter, LinkedIn, Elets video