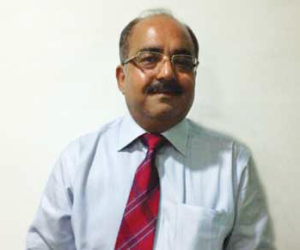 Shashi B Mal
Director and Industry Leader Government, IBM
---
"IBM is now trying to focus on industry solutions for the Government. We have built a portfolio of solutions to serve the needs of various government departments," says Shashi B Mal, Director and Industry Leader Government. In conversation with Ankush Kumar
---
Earlier you were serving as Director Solution and Technology Group and now you heading the Government Business at IBM. What was the management strategy behind this shift?
That was almost three years back, in between I was in the cloud business and the growth markets of IBM. So from 2009 to 2012, I was in the growth market handling the cloud business and this year in January 2013 I came to head the industry solution for Government. I have been here for 17 years and we keep on switching to many roles and responsibilities as per the company's requirement. We are in the Government from pretty long as technology provider from hardware and the software or be it services business.We are now trying to focus on industry solutions for the Government and over a period of time IBM has built a portfolio through lot of software actuations and product acquisitions.Today we feel like, in other parts of the world as the Governments are becoming more business centric and more people centric giving lot of focus to ICT to deliver their expectations what people have from them. So we have a broad product folio of industry solutions which we think are relevant in the Government space.
Can you tell us about some of the successful projects that you have done in the government sector?
We have done lot of projects with lot of our partners; we have done projects in defense, we have done in ministry of finance, we have done many state level projects, treasury projects, tax projects, passport projects, then lot of ministry of commerce projects. IBM has worked with Center for Railway Information System (CRIS) to implemented a Crew Management System (for Indian Railways) to automate the day-to-day management of staffing on board its trains. Delhi International Airport (P) Limited (DIAL) partnered with IBM India to establish a common-use infrastructure in New Delhi's Passenger Terminal Building 3 that automates its operations and improve customer satisfaction. IBM is partnered with The Bureau of Energy Efficiency (BEE) in India to evolve smart grid project. This helped create a cost benefit analysis for smart grid activities as part of the National Mission for Enhanced Energy Efficiency (NMEEE).
What kind of work are you doing in the banking sector ?
We are also working with banks on fraud management and security like you gave some cooperative backs where they being small they having all the resources in house to do everything themselves, we have hosted their whole application in our data centers, managed it and run it for them. Microfinance bank Grameen Koota in India uses an open-source banking platform for accurate, near-real-time information,enabling it to predict capital requirements; to expand its microloans, insurance accounts and other banking functions; and to grow from 70,000 to 3,50,000 low-income clients.
What are some of your areas which you want to explore in near future?
We are also working on various social programs for instance the Government wants to reduce the subsidy as they are focusing on direct cash transfer. So I think that this is a big initiative and we are trying to see what role and what we can do in this program because we have very strong platform around social program delivery. We have acquired a quorum couple of years back and it is a very strong social delivery platform in many matured geographies. We are at a planning stage we are talking to Government and potential customer for this. In healthcare there is a lot of non-clinical initiatives which are happening like inoculations, mother and child welfare programs, the primary health which is delivered at the lowest district, the Aanganvadi who are integrated to some of those programs so this is one area which we want to look at it very aggressively.
Follow and connect with us on Facebook, Twitter, LinkedIn, Elets video