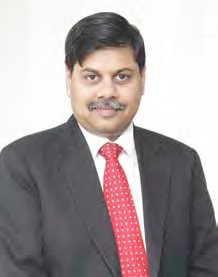 Puneet Gupta
Director – Public Sector, Cisco India & SAARC
---
"The public procurement process of the Government is very important because it brings transparency in the entire process," says Puneet Gupta, Director – Public Sector, Cisco India & SAARC. In Conversation with Ankush Kumar
---
What is your view of e-Governance vertical in India? Tell us about the work that Cisco is doing in this area?
The most important thing from Cisco stand point is that we want to align with India's national agenda. If we look at it what's happening in India there is a significant development in Infrastructure. The last twenty years have been the years of transformation and creation of new infrastructure – the whole telecom infrastructure has come up, the whole e-Governance infrastructure has come up, and lot more infrastructure is under construction. So in a way you can also call it a nation building process which happened over the years. Cisco has played a very important role in this in the areas of Income Tax , Customs, National Knowledge Network, defense network, state wide area network, state data centre and all across APDRP projects. We are also working with Ministry of Home in several police modernisation projects. Important areas for us are education, health and cyber security.
Tell us about some of the major projects in the area of e-Governance that Cisco has been involved with in India.
One of the most important areas, which touch the lives of almost all of us, is the area of income tax. The way we file our returns has changed, the way we get our tax refunds has changed. Cisco has done some major work in providing networking solutions to facilitate better systems of tax filing and tax returns. Similarly we have done important work for Ministry of Corporate Affairs. You look at State Wide Area Network (SWAN), which is all about creating infrastructure in the state right at the block level. We have participated in most SWAN projects, and also in the State Data Centre projects. Then there is the APDRP project of Ministry of Power for cutting down on power distribution losses. In this area also we have made valuable contributions.
According to you what are the key challenges that a private concern faces in working with the Government in India?
The public procurement process of the Government is very important. The procurement has to be done in a transparent manner. Today lot of transparency has come in mainly due to the e-Governance systems for procurement. The challenge also comes for a technology company because over technology is never static, it changes with time, at times the pace of change is very fast. So in my opinion the biggest challenge is the change management. Then there are the issues regarding capacity building. When e-Governance took off in the country, one of the biggest issues with the government was that the government employees did not have IT experience. Eventually the government did a very good job of taking their executives through the change management process. With such a high number of government officials there are still many who do not have adequate IT knowledge.
Are you also focusing to address the issues of training and capacity building in the government departments?
We have a net academy programme and we do a lot of work around that, we have more than 200 odd net academies with 23000 students. We are also focusing to build up skilled manpower in the government. The government executives who have been used to working now need to get trained in the new ways of doing things. All new government projects face the problem of capacity building.
The government employees need to be educated in the new technologies. As of now e-Governance is only making an impression on a relatively small section of the country's population. Majority of the population, especially those in rural areas, have not even been touched by the new systems. New infrastructure has to be created to take e-Governance to all parts of the country. We also need to train a
new crop of government employees to man these new systems. Cisco, with its worldwide expertise in this area, will play a seminal role in promoting e-Governance in the country.
Follow and connect with us on Facebook, Twitter, LinkedIn, Elets video