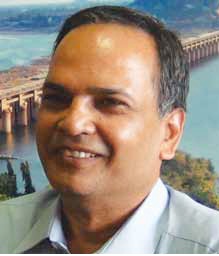 "The fact that IT is a very important tool for bringing improvement in every sphere of governance is widely recognised in Andhra Pradesh," says S K Joshi. In conversation with Mohd Ujaley
Tell us about your experience of being a civil servant?
I have worked for almost 29 years in Indian Administrative Services. I must say that I have had a wonderful experience of me working for the people. I really enjoyed working in various capacities and for different departments. There are a large number of assignments that I have handled. Andhra Pradesh has a total irrigated area of 100 lakh acres up to 2003-04. We undertook a project in which 86 medium and large irrigation initiatives were undertaken in the state. This has resulted in the addition of around 100 lakh acres of new irrigated areas. I think I have contributed a lot by being part of such large scale projects for improving the lives of the people.
Nowadays many developed countries have started using Information Technology solutions for efficient execution of their irrigation projects. However, Indian Government is still yet to make a significant use of ICT in irrigation. Tell us about the steps that Andhra Pradesh is taking in this direction?
The fact that Information technology is a very important tool from bringing improvement in every sphere of governance is widely recognised in Andhra Pradesh. Information Technology can be very useful in various irrigation projects. We have already implemented IT in various pilot irrigation projects. I am in favour of maximising the use of Information Technology for the handling of irrigation related projects. We are working trying our best to achieve automation in the system.
What steps is the governmenttaking to create awarenessamong the farmers regarding ITinitiatives?
Our farmers and organisation are very wellaware and are always ready to adopt new technologies.But the real challenge for us is to propagateit to each corner of the state. At present,various projects are confined to the pilot areas.In Indian context, land and water would bethe prime resources. Our initiative is to utilisewater in environmentally sustainable manner
"Mee Seva is one of the most innovative e-Governance projects in the country"
How do you see the irrigation projects in Andhra Pradesh as compared to what we have in other states of the country?
In my opinion the state of Andhra Pradesh is doing very well when it comes to irrigation related projects. We are among the top states of the country in implementation of IT projects. We have successfully executed several ambitious projects in time. Projects like Nagarjuna Sagar Dam have taken 30 years to get accomplished and are now regarded as great feats of engineering. Nagarjuna Sagar was the earliest in the series of large infrastructure projects initiated for the Green Revolution in India; it also is one of the earliest multi-purpose irrigation and hydro-electric projects in India. Now that we have started deploying Information Technology in the area of irrigation, there is scope for lot of further
improvement.
How do you look into the initiatives like Mee Seva Projects?
Mee Seva is one the most innovative e-Governance projects in the country. Andhra Pradesh is always the front runner in the use of IT technologies for bringing more efficiency and transparency to governance. I consider it one of the best examples of how ICT can be used to bring seminal improvements in governance and bringing more benefits to the people.
Follow and connect with us on Facebook, Twitter, LinkedIn, Elets video