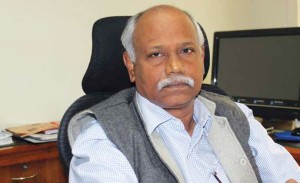 "To meet energy demand of today, supply scenario must have been planned nearly eight years back and must have come to an implementation stage at least five years back, energy sector needs long-term planning," says Mrutyunjay Sahoo, In conversation with Mohd Ujaley
You carry a rich experience of able administrator, having served the State in various capacities in Finance, Revenue and Urban Development departments; also at national level you had worked as Joint Secretary in the Ministry of Power. How different and challenging is the domain of Energy?
The challenging aspect of energy sector in the context of India is to ensure the growth momentum of the economy as we have seen that growth rate has picked up from early 90s. Similarly, there has been dramatic change for all type of energy requirements and more so of power, because power is the main component of the energy sector. There has been huge upsurge in the energy requirement over a period of last two decades. Lot of thing in the society has come to a status of elite to mass items. People expect to have electricity for 24×7, which means interruption and disruption, which used to be earlier, are no longer accepted. Meeting growth requirement along with ensuring quality has become a challenge in Energy Sector. Perhaps, we are in the phase of economic development where we are moving towards the kind of dimensions seen in matured economy.

There has been some mismatch in demand and supply of energy. When you assumed office, you said 'strengthening the energy sector is one of your priorities'. How successful have you been?
I must say during my tenure which is less than a year in energy department. I have not been very successful because energy sector needs long term planning, so today supply scenario must have been planned nearly eight years back and must have come to an implementation stage at least five years back. Now we are in a situation of what was planned and implemented in the past and top of that there is the challenge of uncertaintyof fuel supply – both in terms of quantity and price volatility – which is causing a huge problem in its predictability and short-term management. However, again we have to lay the foundation today, to things to happen five years down the line. Yes, we have been able to take various steps and do hope that from time to come, may be starting from next year to 2020, the state will have definitely much better time in terms of electricity availability and powerconsumptionfor all the sectors.
Tell us about the ICT adoptions in energy department?
The ICT adoption in the power sector is at different level, for example most of the power generator equipmentwhich uses super critical technology for power generation comes with more improved product and performance because of the ICT embedment.Other aspect of ICT is use of SCADA (Supervisory Control and Data Acquisition) in transmission and distribution of electricity.It has given better management control of power flow, monitoring and proper grid stability. In terms of further going down to consumer and distribution level, ICT implementationhas been very dramatic in Andhra Pradesh. We have used ICT for spot billing, now a consumer can go to nearest MeeSeva centre, pay their bills and get other details in no time. So, at different level ICT interventions have come, but these are at incremental steps because powersector is very old sector in terms of engineering technology. We have to think about our requirements and sophistication, for example in USA and EU people are talking about smart grid but we have to evolve our business to that level of sophistication and maturity where it would be possible to use it in a productive way.
Andhra Pradesh and lot of other states are facing shortage of power, how can we optimally use the power that is available to us?
The most optimal way is a kind of mechanism by which the price of different varieties of power could be pulled together to a much larger common pool to make a huge quantity of marginal power available at higher cost to be part of the system.We do that, but there is always a scope for improvement. For example, someone is only capable of producing power at `10 plus, we are unable to make use of it because of marginal price principal to our cost structure. If we can move over a period of time to anaverage tariff structure than may be it would be possible to add more quantityto the supply basket so the demand which is not otherwise made available can be met with. Also, there are pockets of availability and deficiency of the power. We need to have a robust connectivity and transmission system so that surplus power can address the challenge of regions with deficiency. The creation of national grid which plan to connect South India to the rest of the India will be helpful in better transmission.
"Now we are moving towards an Aadhaar based system in which an individual ca n be identified and provided benefits"

There has been huge clamp down on industrial consumption. Please tell us about few major initiatives that you have planned for power production and availability of it to the people.
There has been clump down on industrial consumption because we are in the shortage of power in Andhra Pradesh. However, over a period of last three months, particularly April onwards, we have been able to take bold initiatives in terms of removing that kind of restrictionon industrial consumption keeping in view the fact that it hampers industrial production, employment, and various other good things. We could think of that, when we got the confident that at very short notice we should be in the position to generate our own 500 to 1,000 additional MegaWatt using some of the costliest fuel like NAFTA, and with that kind of readiness being planned as a back-up we could do that. Also, we are seeing the precariousness of different fuel sources, be it gas or shortage of coal. We are of late thinking of further diversifying the fuel sources of our power requirement. So, we have started initiative on solar power and created threeplans. First, for allowing industry to set up their own solar power plant and use our transmission and grid system to transfer the power to their plant from the point where they generate or they could make the third party sale of that power. Second, Government itself has asked to its distribution companies (DISCOMs) to set-up1000MW of solar power plants. Third, we have created a policy to set up roof-top solar units. We want individual families and institutions to come forward to set-up solar plantwhich is very much available in Germany and many other countries. To help and encourage them, we are creatingnet metering arrangement which means they can produce the power and consume the power from the grid only on the net basis and for extra consumption they will be charged. Also, we have started to focus on wind energy, some capacity has come up in last one year and more are expected.
There seems to be lack of appreciation of energy due to huge subsidy given for the utilisation of power. How best it can be addressed?
That is right, any economic principle would suggest if a product and service is not priced as per its cost to recover in some way or other from the users then there is likelihood of a misuse or lack of appreciation of intriguing value of that product or service – be it kerosene oil, LPG, or electricity. For electricity supply which has to be in subsidies category there could be a justification of giving subsidy in terms of social support and promote welfare of poor people. There is no denial that some people need a kind of incentive for making sure that they have minimum consumption available of basicessentials like electricity. However, how to go about it, so that both the goals of welfare and supplier concerns can be addressed? In my opinion, the best way is to use ICT, for example now we are moving towards Aadhaar based system where individual can be identified and targeted. LPG subsidy is already being offered through Aadhaar system to beneficiaries bank account and slowly and steadily all subsidies, even power subsidy will be given through Aadhaar. The major benefit would be that suppliers would not think about subsidy and recipients will plan their consumption in far more rational way. I think it will change the dynamic of power demand and supply and hence optimal use of power will be taken care of in conjunction with welfare goals of the state.
Follow and connect with us on Facebook, Twitter, LinkedIn, Elets video