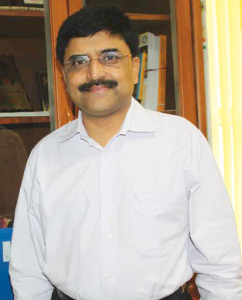 Dr P V Ramesh
Principal Secretary, Finance (R&E)
Government of Andhra Pradesh

"Today the Finance Department has in place a comprehensive financial management system.Now the effort is being made to integrate all the elements of this system," says Dr P V Ramesh.In conversation with Mohd Ujaley
You have served in various departments of the Government of Andhra Pradesh. You have also contributed in various international assignments. How has your experience been in the civil services so far?
I have been immensely fortunate to have joined the civil service. It has given me extraordinary opportunities and diverse assignments which have helped me to bring a degree of improvement to the lives of common people. Such as to improve systems, to build certain institutions, improve services and they certainly make a difference in the quality of lives of people. In my 28 years of journey, I have spent a substantial time outside the country, working with organisations like the United Nations. I have worked across the world. Much of my experience comes from working in very remote and tribal areas for the first 10 years with very disadvantaged people in the naxalite affected regions. Overall, I would say that I am very delighted to have joined the Indian Civil Services.
You come from a medical background and have also served as Health Secretary. Do you think that an understanding of the healthcare domain is necessary to serve people better?
Civil Services are designed to be a general service; we have to manage all types of assignments. However, if you see the type of changes taking place in the society, especially in technology, then you come to the conclusion that we are now living in a world that is constantly evolving. There are some sectors that have become highly specialised like health, education and agriculture, etc. Technical expertise in our institutional framework is supposed to come from the specialists who take care of the department. The secretaries are mainly supposed to contribute by way of framing the policies. However, my perspective is that the greater the domain knowledge, the better it is. The domain knowledge certainly helps. To me, my knowledge as health practitioner and also my work across the world have immensely helped me.
---
There is a strong commitment from the government to make use of Aadhaar for providing better e-Governance services
---
Your department has taken many important e-Governance initiatives. Recently you have started a project to create advanced enterprise solution for transforming the public finance systems. How do you look at comprehensive financial management system?
Today the finance department has in place a comprehensive financial management system. Now the effort is being made to integrate all the elements of this system. We have automated the treasury management system and the budget management system to an extent that the expenditure process and accounts generation is fully automatic. These are all bits and pieces; our first effort is to integrate all the elements of financial management. So there will be one single source of truth from budgeting to cash management, to expenditure to the account generation. The second agenda is to integrate all external stakeholders like accountant general, banks and others to bring them at one platform. The third most important thing is to have a realtime management of the state's finances. So at any given point of time, any officer who is responsible for the management, such as the secretary, manager, director or even a field level functionary, must be able to know what is the budget, how much he has spent,how much he needs to spend and so on. What we hope to achieve with all these initiatives is transparency. The information has to be in public domain so that any citizen can log in and come to know about revenue and expenditure. The citizens should be able to find out what department is spending how much money. Our expectation is to integrate all the processes and the financial management with the human resources. It has a very strong HR management component not just in terms of pay role but also in terms of performance management, service management, promotions, discipline. We are trying to find out the best ways of integrating all of these aspects.
Despite a rise of 135 percent in Andhra Pradesh's tax revenue in 2011-12, which is more than that of Karnataka at 88 percent,Tamil Nadu at 115.3 percent and Kerala at 123 percent, the state has not been able to effectively boost growth. Why so?
I don't agree that we have not been able to effectively boost growth. The inflated tax revenue that we got is not by over-burdening the people of the sate with higher tax rate.What we have done is better tax compliance, better administration, and better recovery of taxation. This reduces the leakages. The truth is that it is efficiency that has led to increase in revenue generation for the state. Andhra Pradesh has been one of the fastest growing states. During last few years the state has grown at the rate of nine percent, which is ahead of the national average. As we know, there is a global slowdown since 2008 and there is a national slowdown since 2010. The overall national slowdown had an impact on us, because we are lot more integrated. Ours is the third biggest economy in our country. We are the fifth biggest in terms of population. Although we have only seven percent of India's population, we contribute 13 percent in the country's economy. We produce cement and iron and supply it to all parts of the country.
There is no doubt that Andhra Pradesh is performing better than the national average, but its growth rate is not in double digits. Some of the backward states in the country such as Bihar, are able to clock double digit growth?
Please share your views on this. Bihar is a good example, in these states minimal growth in the economy shows off as a big jump as they are really starting from the rock bottom. Look at the United States, their growth of one percent and India growing at 10 percent will lead to approximately the same results. As the USA is a $16 trillion economy and India is only a $2 trillion economy, our growth of 10 percent will only add $200 to our economy, whereas even if the US grows by one percent, it will add a much larger sum. Bihar's growth must be analysed from a similar perspective. This state is starting from a very low level. The situation in Andhra Pradesh is completely different. We have a fairly large economy, so we need a much larger boost to grow at a higher pace.
---
"We aim to integrate all the processes and financial management with effective human resources"
---
The state has created a special budget for farmers. In what ways will a separate budget help the agriculture sector?
Our state is in a bigger league when it comes to integrated agriculture budget. However, I would like to say that it is much more than a budget; it is a strategy and an action plan for kickstarting the integrated agricultural format. The agriculture sector is fragmented into various sections. So the expectation is to bring land reform, land management, and micronutrient management in a single platform. That is the idea that the government is pursuing when it attempts to integrate the agricultural sector. The government has been very sharply focusing on agriculture. The investments that are being made in terms of power subsidy to agriculture is in the tune of six to seven thousand crores, we also have huge investment for irrigational projects. So there is huge emphasis is on creating agriculture infrastructure to boost and sustain agriculture, to improve the linkage between research, extension and farm management and to bring the integration from land management to marketing. On the whole I would say that there is enough emphasis being given to the agriculture sector.
Direct Benefit Transfer is one of the key e-Governance initiatives of Central Government. How do you position Andhra Pradesh in the adoption of e-Governance?
We have been on the forefront of rolling out Direct Benefit Transfer (DBT) and enrolment of Aadhaar. Out of 34 crore Indians who have enrolled themselves for Aadhaar, 7.5 crore happen to be from Andhra Pradesh; and out of 40 districts that were brought under DBT in the first phase, five are from Andhra Pradesh. There is a strong commitment from the government as well as from officials and people to make use of Aadhaar for providing better e-Governance services. We are keenly using Aadhaar as a form of identity, and we are also using the e-linkage from Aadhaar platform to bank for transferring scholarships, pensions and LPG subsidy. This is a continuous process, but we are a step ahead because we have already started transferring funds electronically. Although the payment transfers system is yet to be linked to Aadhaar. But soon we will be able to incorporate Aadhaar into the payment delivery system. We will have 10 districts before the end of this year on DBT system.
How do you look at projects such as Mee Seva, which seek to bring various services of the government under one platform?
It is a phenomenal achievement to provide access to all the citizens to the services that we provide. This is a kind of 'one-stop' shop. There is no need to go around ten different offices to meet 100 different people, ask 1,000 different questions. You have access to all possible services under one platform. The way Mee Seva has performed since its inception is phenomenal, now they have expanded for service delivery both horizontally and vertically. I think this system has a big scope.
Andhra Pradesh Urban Infrastructure Fund has been set up, and you were one of the first to leverage Jawaharlal Nehru National Urban Renewal Mission funds. How do you see this today?
We have set up Andhra Pradesh Urban Infrastructure Fund. Later, we were the first to leverage Jawaharlal Nehru National Urban Renewal Mission funds (JNNURM). JNNURM has a good start in terms of strengthening infrastructure, various citizen services. Most important of whole governance reform that has come across in terms of revenue management, streamlining the staff and having more focussed attention to citizen services. It has been a major transformation for past eight to nine years. However, because of rapid urbanisation across the country and certainly in Andhra Pradesh, the challenges are much bigger. What is done is certainly significant but what needs to be done is more important. We have taken various initiatives to achieve the desired goals in the space of e-Governance.
Follow and connect with us on Facebook, Twitter, LinkedIn, Elets video