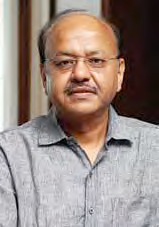 P Agrawal, Chairman, AAI

Airports Authority of India (AAI) was constituted by an Act of Parliament and came into being on 1st April 1995 by merging erstwhile National Airports Authority and International Airports Authority of India

Secure Air Navigation Services
In order to modernise Air Navigation infrastructure for seamless navigation across state and regional boundaries,Airports Authority of India has developed plans for transition to satellite based Communication,Navigation, Surveillance and Air Traffic Management.A number of co-operation agreements and memoranda of co-operation have been signed with US Federal Aviation Administration,US Trade & Development Agency, European Union,Air Services Australia and the French Government Co-operative Projects and Studies initiated to gain from their experience.
Through these activities more and more executives of AAI are being exposed to the latest technology, modern practices & procedures being adopted to improve the overall performance of Airports and Air Navigation Services.Induction of latest stateof-the-art equipment, both as replacement and old equipments and also as new facilities to improve standards of safety of airports in the air is a continuous process. Adoptions of new and improved procedure go hand in hand with induction of new equipment.Some of the major initiatives in this direction are introduction of Reduced Vertical Separation Minima (RVSM) in India air space to increase air space capacity and reduce congestion in the air; implementation of GPS And Geo AugmentedNavigation (GAGAN) jointly with ISRO which when put to operation would be one of the four such systems in the world.
In order to enhance security at our airports a number of steps have been taken by AAI. These include deployment of CISF for airport security,CCTV surveillance system at sensitive airports, latest and state-of-the-art X-ray baggage inspection systems, premier security & surveillance systems. Smart Cards for access control to vital installations at airports are also being considered to supplement the efforts of security personnel at sensitive airports.
All major air-routes over Indian landmass are Radar covered (35 Radar installations at 11 locations) along with VOR/DVOR coverage (93 installations) co-located with Distance Measuring Equipment 66 runways are provided with ILS installations with Night Landing Facilities at most of these Airports and ATS message handling system Gateway at Mumbai.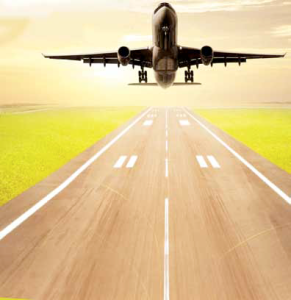 Airports Authority of India (AAI) manages a total of 125 Airports, which include 20 International Airports,06 Customs Airports, 80 Domestic Airports and 19 Civil Enclaves at Defence Airfields. AAI also provides Air Traffic Management Services (ATMS) over entire Indian Air Space and adjoining oceanic areas with ground installations at all Airports and 25 other locations to ensure safety of Aircraft operations.
The Airports at Ahmedabad, Amritsar, Calicut, Guwahati, Jaipur, Trivandrum, Kolkata & Chennai, are established as International Airports, and are open to operations even by Foreign International Airlines.Besides, the International flights, National Flag Carriers operate from Coimbatore, Tiruchirappalli,Varanasi, and Gaya Airports. Tourist Charters now also touch Agra, Coimbatore, Jaipur, Lucknow, and
Patna Airports etc.
To provide airports of international standards in India, AAI has entered into a Joint Venture at
Mumbai, Delhi, Hyderabad, Bangalore and Nagpur Airports.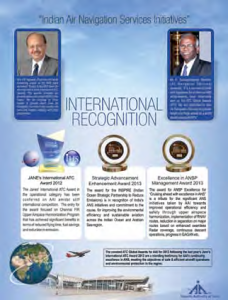 New technological innovations
AAI has successfully used indigenous technology to implement Automatic Dependence Surveillance System (ADSS) at Calcutta and Chennai Air Traffic Control Centres.Thus India now enjoys the distinction of being the first country to use this advanced technology in the South East Asian region. The technology enables effective Air Traffic Control over oceanic areas using satellite mode of communication.
ADS-B Systems which support RADAR like Services have been installed at 14 airports to further support RADAR coverage and provide Surveillance and direct routing at Medium density airports where RADAR is not available.
Advanced ATM automation system have been implemented at 38 airports in addition to METRO airports providing advanced Safety nets, tools and safety features for enhancing safety and effciency.
PBN procedures have been implemented exploiting avionics & ground infrastructure at all major airports to provide optimized and accurate flight paths enhancing safety and effciency of operation.
AAI has undertaken GAGAN project in technological collaboration with Indian Space and Research Organization (ISRO), where the satellite based system will be used for navigation. The navigation signals thus received from the GPS will be augmented to achieve the critical navigational requirement of aircrafts. GAGAN has started transmitting signal-in-space and is expected to be operationalised in July-August 2013. GAGAN service will provide improved lateral and vertical guidance to aircrafts and thus improving safety of approach operations,improved operations in low visibility and reduced divesion in adverse weather conditions. AAI has also planned to provide Ground Based Augmentation System (GBAS) at Chennai, Delhi and Mumbai Airports. This GBAS equipment will be capable of providing Category-II (curved approach) landing signals to the aircrafts thus replacing the existing instrument landing system in the long run, which is required at each end of the runway.
The Advanced Surface Movement Guidance and Control System (ASMGCS),has been installed at all major airports to monitor and control aircraft operations on ground even in poor visibility conditions.Five more systems are planned at Amritsar,Lucknow, Jaipur, Ahmedabad and Varanasi and Delhi, operation of runway 28 has been upgraded from CAT-IIIA level to CAT-IIIB level. CAT-IIIA system permits landing of aircrafts up to visibility of 200mtrs. However, CAT-IIIB will permit safe landing at the Airports at a visibility below 200mtrs but above 50mtrs
"With the aim of making Air connectivity affordable and accessible to the people residing in remote/ unconnected area, AAI is making a roadmap for development of low cost regional airports. Plans are on anvil to provide air connectivity in tier II and tier III cities of India by development of low cost airports. In the first phase places having some basic airport infrastructure will be developed and operationalised, subsequently Greenfield airports will be developed."
Follow and connect with us on Facebook, Twitter, LinkedIn, Elets video