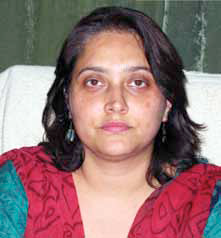 Sheetal Nanda
Additional Secretary to Government, Power Development Department, Government of Jammu & Kashmir
---
"At the moment the percentage of electrified villages in Jammu & Kashmir stands at around 90-95 percent," says Sheetal Nanda
---
Please provide us with an overview of the work that you are doing to make the state self sufficient in Power?
We are trying to bring about an increase in the power generation of the state. The state has the capacity of 20000 MW identified but all of that capacity is not harnessed. The second step is to reduce the losses i.e. transmission & distribution losses and commercial losses. We are now using IT in a big way to curb such losses. The Restructured Accelerated Power Development and Reforms Programme (R-PDRP) is being actively rolled out across Jammu & Kashmir.
What is the main focus of the R-APDRP in J&K?
The focus of the programme is to reduce aggregate technical and commercial losses in power distribution and management across state utilities. Under the project we are establishing reliable and automated systems for sustained collection of accurate baseline data for Jammu & Kashmir Power Department, as well as enhance adoption of Information Technology in the areas of energy accounting. This will help the government to reduce AT&C losses, outages and interruptions, thereby increasing consumer satisfaction. We are establishing a Data Center, a Disaster Recovery Center, a Customer Care Center and an integrated solution is being rollout across the state. The integrated solution comprises of core Utility application modules like meter data acquisition, energy audit, metering,billing, collections, GIS, new connection and disconnection and dismantling.
What kind of electrification has happened in the state under the Rajiv Gandhi Grameen Vidyutikaran Yojana (RGGVY)?
Rajiv Gandhi Grameen Vidyutikaran Yojana (RGGVY) is actually for de-electrified villages. Under RGGVY, a village should be classified as electrified if electricity is being used within its revenue area for any purpose whatsoever. At the moment the percentage of electrified villages in Jammu & Kashmir stands at around 90-95 percent. Majority of the villages in all 14 districts are now electrified. As J&K is a hilly area, where houses are situated over large distances, it is not possible to have every house in the villages electrified. However, the panchayat area in all the villages is already electrified.
What is your opinion on electricity situation in the state?
We are working to improve the electricity situation. Currently in summers we are facing lot of shortage in Jammu and in winters in Srinagar. Around 30 percent of the hour there is power cut. This will improve only when we are able to improve the generation capacity and curb the losses also. At the moment we are having huge losses. Currently we are facing problem with the system of billing. The bills are not accurate and so the government has to forgo revenues. We are now trying to have the electronic meter systems because in RAPDRP it is a mandate that we have to have tampered proof electronic meter. It has not been decided yet, but it is possible that the government may decide to take all domestic consumers to remote billing system.
Nowadays the power transmission is happening through smart grid in many parts of the world. Are you planning to bring smart grid technology to J&K?
We do have offers from few companies to go for smart grids on pilot basis in certain areas of the state, but we are yet to take a policy decision in this matter. First of all we have to improve our system of generation, transmission and distribution, only then we will be able to take full advantage of the smart grid technology
Bulk of electricity in the state is coming through Hydro plants. While this kind of generation is good for environment, it is dependent on the weather cycle. Are you planning to go for thermal plants?
During winters the generation of our hydroelectric stations goes down to 25 percent. For setting up of a thermal plant, we have applied for coal block allocation from the Government of India.
Follow and connect with us on Facebook, Twitter, LinkedIn, Elets video