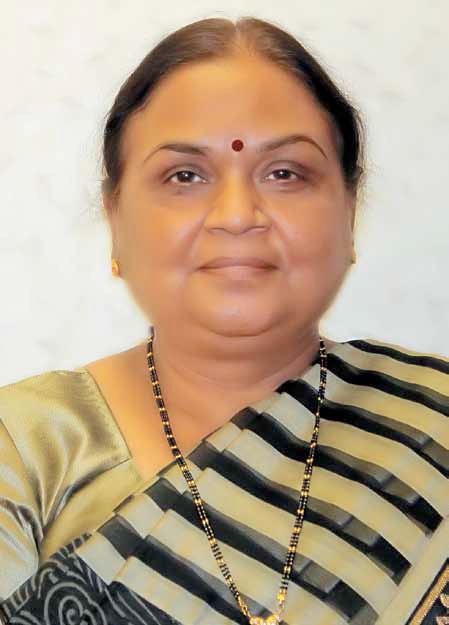 Neela Satyanarayanan
State Election Commissioner,
Maharashtra
"Digitalization has increased accessibility to voters and reduced the possibility of wrong-doing."
What are the challenges faced by the election commissioner in providing a safer election mechanism for the democracy??
There are different stakeholders and different components of an election. Voters are one of the stakeholders. The most important component of the elections is the privacy of the voters. Voters list is another component. A lot of people complain that their information published in the voters' list is incorrect. Third component is polling centers. Every year there is addition to the population, so new polling centers have to be created for this addition in the population and the voters have to be correctly informed about their polling centers. Political parties are other stakeholders. Many times we receive complaints from the parties that the votes casted for one party go to the account of another party. To address this problem we have upgraded our Electronic Voting Machines (EVMs) with new security features.
For parliamentary and assembly elections, we use the voter list shared by the Chief Electoral Officer of Maharashtra under the Government of India supervision. The State Election Commission conducts the elections of the Municipal Corporations, Zilla Parishads and Gram Panchayat across the state. So we have to break this list down according to wards with keeping in mind that the voters would not face any difficulty in terms of location of the polling  booths and other related factors. The State Election Commission has to take care of these issues while preparing for elections to ensure that the elections are a happy and pleasant experience where voters would want to step out of the house and go for polls. While deciding about the polling centers, we have to think of trivial yet important issues to ensure comfort of the voters.
To avoid long queues outside the polling booths, we have increased the number of booths. Earlier the voters allotted to per booth were 1000-1200, we have reduced this number now to 800 so that voters would not need to stand in the queue for a long time. We  also prefer keeping the polling booths on ground floors to avoid inconvenience to elderly, ill and disabled voters. In certain unavoidable situations, where polling booths are kept on upper floors, we make arrangements for Palakis. Besides, we also have to make provisions for basic necessities like drinking water and toilets.
To make voters easier to find directions to their polling centers, we have displayed maps on our website. We also have deployed a call centre and a helpline on which voters contact to find out related information. Through such initiatives, we ensure that the elections are a comfortable experience. We are also making efforts to bring in e-voting; however because of security issue we have not yet introduced it. I would like e-voting to be a regular practice in Maharashtra.
What was your vision while transforming from conventional to the digital era?
My vision was to minimize corruption and unwanted practices in the elections. I want to present a more comfortable and pleasant experience to the voters. The laws are implemented as per the election rule book. We wanted everything to be voter-centric. Digitalization has increased accessibility to voters and reduced the possibility of wrong-doing. For example, we have published on our website the affidavits filed by the candidates at the time of elections. Anybody can see it and learn about the candidates. We also have published newspaper coverage of election so that voters can stay updated about the elections and their candidates
How do you leverage ICT tools, like mobiles, software, web portals to create awareness among voters?
In addition to our website, we are using SMS service to mobilize voters on the day of poll. We tell them it is poll day and your vote is very precious to us, please come out and vote. This service is available in both Marathi and English. This has proved to be a good success as a lakhs of people come to vote.
What is your roadmap for e-voting?
In the initial stages, we are trying to introduce e-voting for the officials on the election duty. This will include the polling centre officials, police, guards and government officers. Officials on election duty, most often, cannot cast their vote as they cannot be physically present at the polling booth allotted to them. I want to begin with these personnel to implement e-voting in the state.
How e-voting mechanism will work?
First, we will register all the voters opted for e-voting. Once a voter chooses to cast his/her vote through e-voting, they will be removed  from the list of the voters casting their votes at the polling booth. A mobile van equipped with a highly secured computer and connectivity will reach the polling centers where the staff on election duty can cast their vote. Security is the most challenging part of e-voting. Considering the sensitivity of the vote, it must not leak or misused either by lure or by intimidation.
Considering the needs of the e-voting system in Maharashtra, which voting system in the world you find most suitable?
Election mechanism of each country has its own advantages and disadvantages; it has its own political set up. We have designed a system that suits our environment. Election system in India has its own challenges. This is why we have to go by our condition and accordingly design an e-voting pattern.
What is your vision for next five years?
I want the elections to be fair and free. I will be happy if e-voting is introduced on village level as well. I am sure that voters will find it comfortable to go to nearby kiosks to their home and vote. In 2012 elections we did another experiment of setting up polling booths in large residential complexes. We had set up polling booths at societies with more than 1,000 voters. We received a very positive response from the voters. We are planning to expand on this idea.
Follow and connect with us on Facebook, Twitter, LinkedIn, Elets video