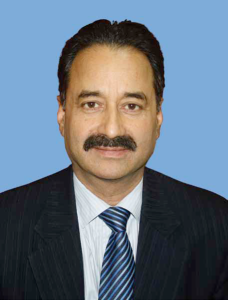 The Transport Department in J&K has taken several steps to enable efficient e-Governance services in the transportation sector
Mehraj Ahmed Kakroo, Secretary to Government, Transport Department, Government of Jammu & Kashmir
Situated at the Northern part of India and bordering Pakistan, China and Afghanistan, J&K state provides a corridor for booming Indo–
Pakistan Trade. In the absence of railways and waterways in the state, the road transport system serves as the primary means for movement of people, goods and other essential supplies both within and outside the state. Hence, computerisation to bring about modernisation and efficiency in the transport sector is not only important, it is also crucial to the overall progress of the state.
Vahan and Sarathi are standardised software applications developed by NIC to meet the twin objectives of Ministry of Road Transport and Highways (MoRTH) for adopting standard data formats and software for vehicle registration and driving licenses so as to build a national register of vehicle and driving licenses and simultaneously provide e-services to citizens through various District Transport Offices (RTOs) located across the country.
The importance of "ready to access" databases of Vehicles and driving licenses for law enforcing and investigating agencies is immense. The state also has a sizeable market for used vehicles from other states giving rise to apprehension of stolen vehicles or otherwise involved in other crimes finding their way using forged documents. The services provided by National Registry (NR) will go on long way in mitigating such threats by allowing Registering Authorities to verify the vehicle credentials before granting registration. Likewise, prospective buyers too can verify the details online before deciding to buy such vehicles.
SAA RTHI
The integrated Solution for License related activities
SAARTHI is a comprehensive system for all the activities related to issuance of
Driving License by RTOs. The software enables the processes at RTOs involving
issuance of Learner's License, Permanent Driving License, Conductor's License, and Driving Scholl License etc.
Services through SARATHI
• Learner License
• Issue of fresh Learner's License
• Renewal of Learner's License
• Duplicate Learner's License
Driving License


• Issue of fresh Driving License


• Renewal of Driving License• Change of Address in Driving License• Additional Endorsement in Driving License• Change of name in Driving License• Duplicate Driving LicenseConductor License• Issue of fresh Conductor License

• Renewal of Conductor License

• Change of Address in Conductor License

• Duplicate Conductor License

Driving School License

• All the activities related for the issuance, renewal of driving school license

Services to Citizen

• Information Query

• Application Status Tracking Online Application Submission

VAHAN Services Vehicle Registration

New Vehicle Registration
Renewal of Registration
Transfer of Ownership
Change of Address etc.

Permit

Issue of National & Interstate Permit
Renewable of Permit

Taxes

State – wise tax calculation Payment

Fitness

Issue of Fitness Certificate
Renewal of Fitness Certificate

Enforcement

Issue of Challan
Settlement of Penalty Amount

Services to Citizen

Application Status Tracking

VAHANVAHAN is a highly flexible and comprehensive system that takes care of all the burdensome activities of Vehicle Registration, leaving the Transport Department to deal with more important business issues.The J&K State Transport Department is governed by both Central Motor Vehicle Regulation (CMVR) and State specific Motor Vehicle Regulation (State MVR).
Consequently,VAHAN was conceptualized as a product that would capture the functionalities as mandated by CMVR as well as state MVRs.
Technologies

VAHAN: The application runs in a client server mode. In the client server mode the database exists on the server machine.
• Database – VAHAN supports many databases, but in J&K MSSQL
server 2000 and higher is being used.• Client – This is the GUI layer of the application, which interacts with
the clients by means of formsSARATHI: Uses VB6 as front end and MS SQL server database as
backend.VAHAN: The integrated Solution for Vehicle Registration

VPNoBB
Connectivity has been provided for
uploading of daily data and Oracle Data
Integrator (ODI) is used for data replication
and consolidation from various
RTO/ ARTO to the central server over
secured network connection• Online Application Submission &
Processing
• Online Issuance of National Goods
Permit
• Online Renewal of National Goods
Permit
Follow and connect with us on Facebook, Twitter, LinkedIn, Elets video