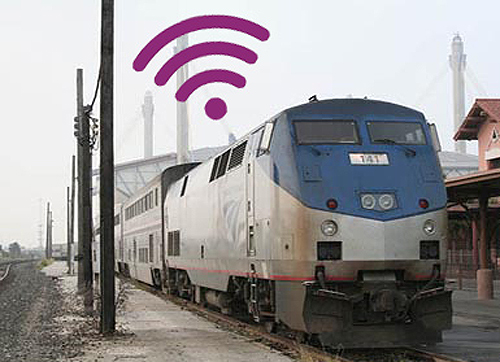 Howrah Rajdhani Express received Wi Fi connection on April 2, as a part of a pilot project Pawan Kumar Bansal, Minister of Railways. Indian Railways decided for satellite communication link to the train and Wi-Fi connectivity to different coaches.
Presently this facility is being extended free of cost to the travelling passengers. The facility is being introduced for the first time on Indian Railways through state-of-the-art Technology at a total cost of Rs. 6.30 crore covering all the three rakes of Howrah Rajdhani Express. The satellite communication link is arranged through satellite hub facility. Initially, 4 Mbps download bandwidth and 512 Kbps upload bandwidth is earmarked for internet facility in moving train. The satellite antenna is placed in one of the two Power Cars of the rake. This is linked through Wi-Fi radios provided outside of each coach. This is further distributed inside the coaches through indoor access point. This will help passengers of the Rajdhani Express train to access internet during their journey.
For accessing the internet facility, the bona-fide passengers will have to access Indian Railway Wi-Fi network. The passengers will be able to register by providing the PNR and other details like mobile number etc. On validation of the data entered by the passengers, as per extant DOT guidelines, the Login ID and Password will be sent through SMS to the registered mobile number. The Login ID and Password will remain valid for entire journey.
This service on other Rajdhani/Shatabdi/Duronto express trains progressively based on customer feedback and acceptance.