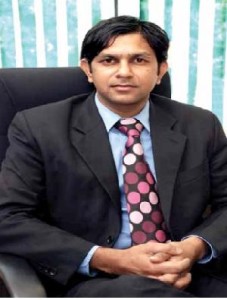 Rahul Agarwal – Executive Director, Commercial Business, Lenovo India, talks about Lenovo's strategy in enterprise business with Nikita Apraj, Elets News Network (ENN)

Why Lenovo India decided to restructure its business in India and focus on government and education segments?
Lenovo India's new enterprise business verticals — global, very large enterprise (VLE), large enterprise (LE), government and education are unique in many ways, and require a focused approach. The restructuring works well with Lenovo's 'Protect and Attack' strategy and helps drive increased growth.
The trends observed in the adoption of IT in the government and education sector further justified the need to restructure. There is a tremendous market opportunity in both verticals and our Protect & Attack strategy has helped us in maintaining our lead in the Enterprise PC market in India (for the past five consecutive quarters), and we currently have a 28.8% market as per IDC data for Q3, CY 2012 (Asia Pacific PC shipment tracker).
Please brief us about the government projects in which Lenovo is involved on significant level.
Lenovo focussed on participating in key government projects related to e-governance and govt-sponsored education projects. Some of the significant projects that we secured in the last few years are –
• Maharashtra eGram/ MahaOnline Project: Lenovo All-In-One PCs were installed at 27,000 villages for ensuring e-governance at the Gram Panchayats.
• UIDAI: Lenovo has provided laptops for enrolment kits to several service providers for the UIDAI enrolment scheme.
• NPR: Lenovo supplied about 20000 laptops to CPSUs for the National Population Registry project.
• Tamil Nadu Students Laptop scheme: Lenovo provided customised laptops to about 365,000 students across the state as a part of the deal with Electronic Corporation of Tamil Nadu (ELCOT). Lenovo has been the largest supplier for this project that has covered bout 2000 institutions across multiple districts
and talukas across Tamil Nadu. As a part of this win, we have also set up 72 dedicated After-Sales support centres to provide efficient field support to the students.
---
The PC industry is moving on to the PC+ era where PCs will sit at the heart of an ecosystem that includes smart connected devices, as well as all major operating systems, chipsets, apps and cloud-delivered services
---
What are the key features that make Lenovo India stand out from its competitors?
Our focused approach in offering mobile computing solutions to the market has been successful. It is ably supported by the 'Protect and Attack' strategy, which protects our core businesses in commercial PCs, while simultaneously attacking market opportunities in Consumer, SMB and emerging markets. Lenovo has outgrown the market through effective execution of its strategy, product innovation, intelligent pricing, and excellent customer/channel relationships.
Our retail presence has helped us expand our brand awareness and presence in the Tier II, III and IV cities of India. Significant investment in R&D has ensured that we are able to offer cutting-edge computing solutions like the ThinkCentre Tiny M72e and M92p Desktops and ultra portables. Our winning product portfolio has contributed greatly to our success in the Indian PC market.
What future consumer trends do you see in the segment of personal computing?
The PC industry is moving on to the PC+ era where PCs will sit at the heart of an ecosystem that includes smart connected devices, as well as all major operating systems, chipsets, apps and cloud-delivered services.
Lenovo believes that the future of personal computing will be across four screens – smart phones, tablets, PCs and smart TV. While we are already present in the PCs, tablets and smartphones segments, we will enter the smart TVs business, once we have the right products and right channel relationships in place.

What are the business prospects in the government segment in India and how does Lenovo India plan to leverage it?
Government efforts in increasing e-literacy and PC penetration in the country are heartening. Today State Governments across the country are investing or planning to invest in implementing projects that would increase adoption of computing devices among the masses.
More importantly, many of these projects are being implemented in tier II, III and IV cities and this will call for strong capabilities on the part of PC manufacturers in the servicing and distribution end. Lenovo has also been a leader in bringing new technology into the market quickly and this will help us implement projects that require high-end computing.
Follow and connect with us on Facebook, Twitter, LinkedIn, Elets video