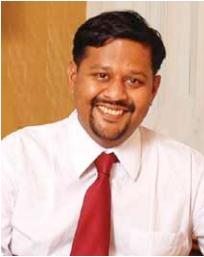 Shivaji Chatterjee
Vice President, Enterprise Services, Hughes India
"When you are part of a high profile industry like telecom, there are bound to be some challenges,"says Shivaji Chatterjee, Vice President, Enterprise Services, Hughes India. In conversation with Aparajita Gupta
---
Tell us about the work that Hughes India is doing in India. What are your major achievements in the country?
We have been in India for the last 18 years. We were the first private organisation in the country to provide data services. During the early years, our services were availed by lot of corporates that were looking for reliable data connectivity. We have been profitable from the first year in India.. As you already know our parent company is the one that has invented the V-SAT technology about 30 years ago. Such a strong background has enabled us to carve a good niche for ourselves. Today we are providing lot of solutions to Central and State government departments and also to private organisations.
Many international organisations have stated that India is a difficult place to do business. What is your experience? Tell us about the challenges that you have faced in India.
When you are part of a high profile industry like telecom, there are bound to be some challenges. The telecom industry is today bringing lot of revenues to the government, so the policy framework has to be dealt with lot of push and pull factors. For instance, there was the judgement of the Apex Court that the natural resources should be auctioned, but later on it was sort of corrected and we learned that the auction route is not mandatory.
It is well known that there are substantial policy related issues in the telecom sector. How is that affecting your business?
There is significant effect. The good thing is that in India, when you don't get something, you innovate. We keep on innovating to ensure that we are able to do our work under diverse kinds of policy environments. The biggest challenge is a sustainable, clear, fast action framework. It is an example of policy paralysis. But even if somebody doesn't want to take a tough decision the work has to go on. Currently, ISRO is unable to meet all the demands of the industry, so they allow the use of foreign satellites. If there is any regulation that allows open sky framework, then the industry will be able to access many satellites. We have applied to the government of India that we wish to invest $300-400 million for putting up a satellite .
Which are the various state governments you have worked with in India?
We did a project called EduSat, which con-nected about 12 to 14 different states. Under this programme a satellite called EduSat was set up. We set up studios where teachers in central universities are connected to various schools and colleges across the state. There was a classroom set up for virtual learning. And the schools and colleges will have at least one class for virtual learning. States like Tamil Nadu, Kerala, Karnataka, Chhattisgarh, Odisha, Jharkhand, Jammu & Kashmir, Punjab, Delhi and Lakshadeep are part of the programme. We have also done programmes with Gujarat, Andhra Pradesh and Bihar.
What is your view of various e-governance programmes run by government?
Well my idea of NeGP (National e-Governance Plan) is that its implementation was somewhat flawed. They have put up the SWAN and the CSC and they finished the Data Centre in the end, and only now they are starting to develop the applications. The idea to set up the infrastructure without content is like setting up internet without website. So I think much more effort should go into creating applications and contents, only then the network will be useful.
What are the government projects you have in pipeline?
We are doing a surveillance project in Mumbai and Pune city. We are also creating an e-Governance network project in Andaman. Then there are the large rural development projects in states like Bihar, Jharkhand, West Bengal, Maharashtra and Madhya Pradesh. We are part of these. For the defence sector we are doing border surveillance related projects. There is a network called Defence Communication Network, of which we are a part. We are also doing projects for the Railways. We are involved in core banking projects that are targeting the rural areas.
Follow and connect with us on Facebook, Twitter, LinkedIn, Elets video