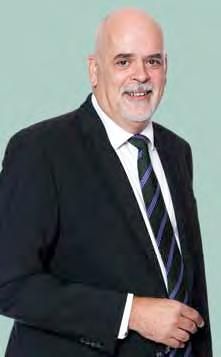 John Torrie
CEO, Steria UK & India, in conversation with Nikita Apraj
Tell us about Steria's journey so far.
Founded in 1969, Steria delivers IT enabled business services and is the trusted transformation partner for private and public sector organisations across the globe. We combine our in-depth understanding of our clients' businesses with expertise in IT and business process outsourcing, to take on our clients' challenges and develop innovative solutions to address them efficiently and profitably.
Headquartered in Paris, we have 20,000 people working across 16 countries in Europe, India, North Africa and South East Asia. With over 5,500 employees across three centres, Steria India has always endeavoured to create and implement innovative but relevant solutions that sharpen our clients' competitive edge and strengthen your leadership status.
Transportation is one of Steria's important business sectors. Please tell us about some notable projects that you have done in transportation across the world.
Steria has been a provider of safe and sustainable intelligent transport systems to the public and private sector, solving the everyday needs in the four core areas of passenger information, traveller security, green transport and mobility solutions.
The Steria Taxi Expert solution for British Airport Authorities at Heathrow Airport's five terminals uses fixed and hand-held devices to monitor taxis equipped with radio-frequency identification (RFID) tags.
In France, our Traffic Expert® solutions are used across 80% of road management systems providing real-time traffic information to the travelers. Our solution for the road network in France is the country's most important road traffic system, managing 3.5 million vehicles a day and keeping road users informed on traffic conditions 24×7.
How do you see traffic scenario in Indian metro cities? How it can be improved?
The top five Indian cities constitutes to 20 percent of the total vehicular traffic of 140 million, with Delhi having over 7.5 million vehicles alone. The number of vehicles is supposedly increasing at a rate of over 10 percent per annum. This significant growth in  Indian road traffic presents a good opportunity for the ITS business, aimed at ensuring safe, secure and sustainable transportation.
Road and highway authorities are taking steps for the provision and maintenance of National Highways network to global standards, with the development of over 150 new national highways in progress. This calls for the need for deployments of area-wide signal control, parking information, advanced public transportation and toll collection systems amongst others.
Our intelligent Traffic Expert solution offers the ability to acquire real-time traffic information. Modular and scalable, Traffic Expert supports safer, smoother travel with traffic information and management, in-vehicle telematics services, tunnel control and management and speed enforcement solutions. It enables operators to perform real-time data analysis on the information gathered.
What are your plans for transport sector in coming years?
Steria's India strategy is to establish a strong footprint for our solutions for safe, sustainable and intelligent transport management. Steria works throughout the transport sector, serving road, and urban transport providers.
With four decades in this sector, our experience has allowed us to develop deep business process knowledge in critical transport areas,
including traffic management, parking and taxi management, automatic road violation enforcement, simulation for studies, and operational software validation.
In India Steria can help to improve transport efficiency and reduce traveler stress. And we have an aggregation capability that allows us to bring knowledge and expertise from one sector to the other so that we share best practices across the transport domain.
Follow and connect with us on Facebook, Twitter, LinkedIn, Elets video